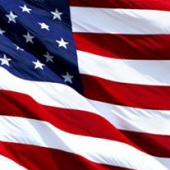 Obituary for A.D. "Bud" Bjerrum
A.D. 'BUD' BJERRUM...

was born August 9, 1930 to Henry and Orva (Mitchell) Bjerrum in the Seward Hospital in Seward, Nebraska. Bud was raised and received his education in Lincoln, Nebraska. In 1952, Bud joined the United States Army where he was Sergeant of the Motor Pool. He was honorable discharged in 1954. On December 3, 1955, Bud was united in marriage to Alice Cuda in Benedict, Nebraska. To this union two children were born, one son, Allen and a daughter, Lori. They made their home in Nebraska until 1970 when they relocated to Slayton, Minnesota where Bud worked for Champion Home Builders. They moved to Ortonville, Minnesota in 1992 to retire on Big Stone Lake and in 2001, they moved to Luverne to be closer to their children. Bud became a resident at the Minnesota Veteran's Home in Luverne in June of 2011 where he lived until his death on August 13, 2015 at the age of 85 years and 4 days.

Bud loved fishing and spent many summers fishing on Big Stone Lake. His dream was to move to Minnesota so he could be closer to the good fishing. Bud was a member of the Murray County Lodge in Slayton, Minnesota and also the El Riad Shriners in Sioux Falls, South Dakota.

Bud is lovingly remembered by his wife, Alice of Luverne; his daughter Lori Hess of Luverne; daughter-in-law, Penny of Sioux Falls, South Dakota; grandsons, Chad Hess of Mankato, Minnesota and Andy (Heather) Hess of Luverne; granddaughters, Sara Garrett and Kelly Shuck; 6 great-grandchildren; sister, Marian Augustine of Council Bluffs, Iowa; brother-in-law, Dan (Jeanne) Cuda of Lincoln, Nebraska and many nieces and nephews. He is preceded in death by his son, Allen; his parents; two brothers and one sister.

Private Family services will be held.

Arrangements are through Hartquist Funeral Home - Luverne Chapel.