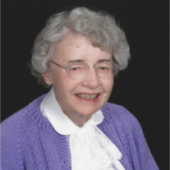 Obituary for Alice M. Aukes
ALICE MARIE AUKES was born May 6, 1919, on the family farm near Steen, Minnesota to Reinder and Ella (Arends) Aukes. She attended first through eighth grades in Steen and graduated from Hills High School in Hills, Minnesota with the Class of 1937. In June 1943, she enrolled in a six-week course to earn a Second Grade Teachers Certificate. That fall Alice took on the challenge of teaching five children in first to seventh grades in a District 56 one-room schoolhouse near Brandon, South Dakota. After completing the school term in May 1944, Alice decided it was time to follow her dream to "prepare for office work and live in the city." In the fall of 1944 she started a two-year course of study at Sioux Falls College in Sioux Falls, South Dakota. She graduated from Sioux Falls College in May 1946 with a Certificate of Commerce.

Over the next four years she worked at Wilson Storage & Transfer, Aladdin Company and Sioux Steel, all in Sioux Falls. When Alice's roommate had a chance to move to the Twin Cities, Alice took a "leap of faith" and moved to the "big city" as well. She took a job "sight unseen" at Farmers Union in South St. Paul and six months later, with her goal set on living in Minneapolis, she started work at Robertson Lumber in Foshay Tower in downtown Minneapolis. In August 1967, when Robertson Lumber moved their offices to Grand Forks, North Dakota, Alice went to work at Munsingwear in Minneapolis where she finished out her professional career.

Alice enjoyed traveling and participating in Elderhostel learning programs. She took many trips to destinations around the United States from the North Shore of Minnesota to Florida, Washington D.C. to California, north to Alaska and across the Pacific to Hawaii. She also made several trips to Europe, including Germany where she connected with a distant cousin and researched family history. Her favorite trip was visiting the Holy Land in 1976.

Even though Alice loved living in the city, first Minneapolis and then Edina, she enjoyed getting out in nature. She was an avid bird watcher and an active member in the Minneapolis Municipal Hiking Club. She did a great service to her family by putting together a detailed genealogy of the Aukes/Arends families. She was a whiz at jigsaw puzzles, a fierce competitor at Scrabble and could out-walk the best of them on the hiking trail before her health began to decline.

On Tuesday, May 2, 2017 Alice passed away peacefully at Friendship Manor in Shakopee, Minnesota at the age of 97 years, 11 months and 27 days.

Alice is survived by nieces and nephews who remember her as a self-sufficient woman who knew what she wanted and set out to do it. She was preceded in death by her parents; and four brothers, Roy, Leslie, Helmuth and Alvin Aukes.


Previous Events
Graveside Service
Eastside Cemetery
Steen, MN, US, 56173

Cemetery Details
Location
Eastside Cemetery
Steen, MN, US, 56173