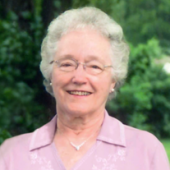 Obituary for Arlene A. Mann
ARLENE AMANDA MANN was a loving wife, mother, sister, daughter, and friend. She was the first of twin girls born on November 5, 1933, to Gustav and Amanda (Paulsen) Burmeister in Luverne, Minnesota. Arlene and her twin sister, Darlene, were baptized on February 4, 1934, and confirmed on July 6, 1947, both at St. John Lutheran Church in Luverne.

It was at St John's during Sunday School when Arlene first became attracted to her husband, Eugene Mann, of 63 years. The class was drawing names to exchange Christmas gifts, and Arlene swapped with a friend so she could have Eugene's name.

At the age of 11, Arlene began working at The Eighty Drive-In in Luverne. Three years later she started at Renfro Variety. She developed a close friendship with the owners and continued to work at the variety store even after she graduated from Luverne High School in 1951.

On December 27, 1953, Arlene married her long-time sweetheart, Eugene, at St. John Lutheran Church. The couple began their married life in Fort Monmouth, New Jersey, where Eugene was stationed with the United States Army. In 1954, they moved to the army base at Fort Sheridan, Illinois. In January 1955, the first of their five children was born at the Naval Hospital in Great Lakes, Illinois. After Eugene's discharge later that same year, the couple returned to the Luverne area to begin farming and raise their family.

Once her children were through elementary school, Arlene worked at Sears and Shaw Drugstore in Luverne. In 1982, Arlene and Eugene retired from farming and moved into Luverne.

Arlene was known by all for her kindness, creativity, cooking (especially baking), and craftsmanship. She loved woodworking, sewing, and making crafts of all kinds. Eugene called her the brains in the family. She gladly shared her talents, and enjoyed designing church banners, bulletin boards, and other Christian and seasonal decorations.

Arlene participated in Ladies Aid, Extension Club, and volunteered with 4-H. She always made time to take care of family, neighbors, and friends. As a member of Bethany Lutheran Church in Luverne, she and Eugene helped out as volunteers for the Meals on Wheels program. She also enjoyed playing the organ and card games. Although Eugene and Arlene often talked about taking a trip to Hawaii, they found pleasure and comfort in traveling closer to home in their camper.

In 2013, Eugene and Arlene became residents of Bethany Meadows in Brandon, South Dakota. There, their love continued to grow. Arlene would often ask Eugene to blow kisses to her from across the room. On Wednesday, November 1, 2017, Arlene died peacefully at the age of 83 years, 11 months and 26 days.

Arlene is lovingly remembered by her husband, Eugene, of Brandon; their children: Belinda (Daniel) Kroska of St. Joseph, Minnesota, Brian (Patty) Mann of Cheyenne, Wyoming, Brenda (Mark) Mann Harrison of Snohomish, Washington, Bryce (Stacey) Mann of Lewes, Delaware, and Benita (Scott) Dingman of Bemidji, Minnesota; 13 grandchildren: Josh Mann, Eric Mann, Angi Pense, Shari Gilbert, Elizabeth Harrison DeVivi, Leah Harrison Naccarato, Blake Mann, Brynn Mann, Bryan Mann, Alexis Burger, Victoria Burger, Ryan Dingman and Mya Dingman Totzauer; 5 great-grandchildren: Iris Mann, Gemma Mann, Max Mann, Logan Mann, and Josiah Dingman Totzauer; a twin sister and brother-in-law: Darlene (Walt) Johnson of Brooklyn Park, Minnesota; and a sister-in-law: Betty Burmeister of Luverne, Minnesota. She was preceded in death by her sister and brother-in-law, Elaine (Peter) Jensen; and two brothers and one sister-in-law, Richard Burmeister and Wayne (Doloris) Burmeister.

Memorials may be directed to the Bethany Lutheran Church Ladies' Aid.


Previous Events
Visitation
Hartquist Funeral Home - Luverne Chapel
207 Elm St.
Luverne, MN 56156
Funeral Service
Bethany Lutheran Church - Luverne
720 N. Kniss Ave.
Luverne, MN 56156
Cemetery Details
Location
Maplewood Cemetery - Luverne
1242 W. Warren St.
Luverne, MN 56156