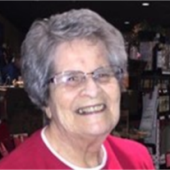 Obituary for Barbara J. Slieter
Barbara (Barb) Joan Slieter was born August 11, 1932 in San Francisco, CA to parents Herbert and Josephine (Gazzano) Quantz. She attended school in San Francisco and graduated from St Paul's High School in 1950. That summer she went to work at Wells Fargo Bank in San Francisco.

In 1953 she married Allan Slieter and moved to southern California, the Sacramento area, Denver, and then Bingham City, UT. In 1965 she moved with the family to the farm near Hardwick, MN and became a farm wife and raised five children there. From 1984 through 1986 she attended school at Minnesota West Community College in Worthington, graduating with business degree. She went to work for S.W. MN Opportunity Council in 1986 as an outreach worker for Pipestone County and retired in 1999.

Barb was a member of Zion Lutheran Church in Hardwick since 1965. She played the organ for church services for over 30 years, had been a Sunday school teacher, an officer of the LWML, and was active in other activities. She enjoyed quilting with the group from church, playing cards with friends and family, and especially enjoyed getting together with her family to enjoy grandchildren and great-grandchildren.

Barb's family lovingly describes her as an adventurer, patriot, and true matriarch. We admire her strength, determination, positive outlook, and resiliency. Though faced with many challenges and losses throughout her life, she held true in her love for the Lord and remained steadfast in her faith. She was the beloved heart of our family & her amazing Spirit will carry on through us. Ti amo & ti adora, Mamma!

On Thursday, November 16, 2017 Barbara died peacefully at Homestead Assisted Living at the age of 85 years, three months and five days.

Barb is survived by her sister, Ann Marie Callahan of Burnt Ranch, CA; daughter, Jeanette (James) Rutten of Norfolk; son, John (Jean) Slieter of Lincoln, NE; daughter-in-law, Janet Slieter of Luverne and son Randall (Susan) Slieter of Olivia, MN; 25 grandchildren; and 13 great-grandchildren. Barb was preceded in death by her parents; her husband, Allan; two beloved sons, Robert and Dale; and her grandchild, Alene.

In lieu of flowers memorials can be sent on behalf of Barb to: Zion Lutheran Quilters, PO Box 36, Hardwick, MN 56134.


Previous Events
Funeral Service
Grace Lutheran Church
416 W. Park Ave.
Norfolk, NE 68701
Graveside Service
Memory Gardens Cemetery - Luverne
Restlawn Memorial Gardens
Luverne, MN 56156
Cemetery Details
Location
Memory Gardens Cemetery - Luverne
Restlawn Memorial Gardens
Luverne, MN 56156