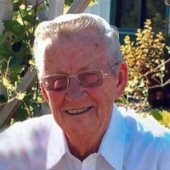 Obituary for Charles Ross
Charles Robert Ross was born February 1, 1938 in Rawlins, Wyoming to Charles and Eleanor (Walbye) Ross. He attended school in Rawlins and Hanna, Wyoming. After graduation he enlisted in the United States Navy where he served four years, 27 months of which were in the Philippines and the Formosa Conflict. He was discharged in 1959 and went to work as a Deputy Sheriff for Sheriff C.W. Ogburn in Carbon County, Wyoming from 1961-1965, and part-time until 1985. While employed as a deputy he set up the Carbon County Peace Officers Association. He was employed by Union Pacific from 1966 to 1992, at which time he took a disability retirement. On August 6, 1988 Chuck married Diane Skorczewski in Cheyenne, Wyoming. The couple moved to Las Vegas, Nevada in 1992 and back to Wyoming in 1996. They moved to Tyler, Minnesota in 2007. On Friday, September 27, 2013 Charles died from lung cancer at Tyler Healthcare Center at the age of 75.

Chuck was a Democratic County Chairman in the 1980s. He was active in the United Transportation Union as local chairman and as a State Director. He was a past member of The Wyoming Alliance for Accountable Government, Wyoming Capitol Club, Carbon County Economic Development Corporation, Governor's State Labor Committee, AARP, Fraternal Order of Eagles, and Veterans of Foreign Wars.

Charles is lovingly remembered by his wife of 25 years, Diane; sons, Robert Ross and his wife Lucy of Rawlins, Wyoming and Chuck Ross of Rawlins, Wyoming; step-sons Steve, Todd, Kevin, and Tim Helvig, and step-daughter Linda Carter, all living in the Wyoming area; 4 grandchildren and 5 step-grandchildren; a great-grandson; sisters Beverly Taylor of Reno, Nevada, and Irma Allen and Ellen Bradley, both of Kingman, Arizona; and many other relatives and friends. He was preceded in death by his parents; brothers George and Jerrold Ross; and a sister, Marie Dickey.

Blessed be his memory.