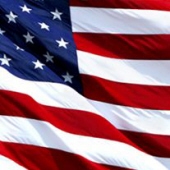 Obituary for Clarence S. Langhout
CLARENCE SAMUEL LANGHOUT (To all of his friends he was known as "Lang".)

Lang was born in Beaver Creek, Minnesota on June 3, 1915 to Clarence and Minnie (Fiekema) Lanhout. He was one of ten children raised on a quarter section that he still owns. He was always lured by the sounds of the railroad as it snaked its way through the country side and I guess it was that sound of the whistle that set in motion that sense of adventure that would take him through life. In June, 1936, after having saved enough money to take him north to the twin cities to enlist in the United States Navy, Lang was informed that he would have to go to Mankato to finish his enlistment process. He was milking cows at the time for his money and to those of us that haven't lived through the great depression, we would not understand how tight things were. Well to finish the story Lange didn't have the money necessary to get from the cities to Mankato, so doing the only thing that was available at the time he chose to do what they referred to in those days as "riding the rails". The object was to catch the train on the roll and hope you didn't get caught. In June of 1936 he was sworn in and his life was changed forever. To those who knew him he made an impression. He was a man's man - he had been there and done that. He searched for Amelia Earhart, was involved in the grand opening of the Golden Gate Bridge in San Francisco, lived in China when the Communist took over the country, was a veteran of WWII, Korea, and Vietnam just to mention a few of his accomplishments. He was also stationed aboard the USS Nevada and by a stroke of luck he was transferred a few short months before Dec 7th 1941 which found the Nevada in a fight for her life in Pearl Harbor. Clarence and Margie Kenny were married in Mineral Wells, Texas in 1942. He retired from the US Navy in 1968 at a young 65 years and achieved the rank of Master Super Chief (E9), one of only eight in the entire Navy.

Lang was still a young man and had no intensions of slowing down. He worked as a boiler inspector for a large insurance company for fifteen years. Clarence and Margie would share their lives together for almost sixty years. Margie passed away on July 3, 2001 in Garden Grove, California. Clarence would see most of his peers, if not all of them, "piped off the gangplank before him."

On Tuesday, January 8, 2013 Lang died at the Los Alamitos Hospital in Los Alamitos, California at the age of 97.

Lang is survived by his three boys, Larry, Dale, Stanley; six grandchildren; and six great grandchildren.

Clarence and Margie will be laid to rest as sweethearts, side by side on Valentine's Day, Thursday, February 14, 2013 at Maplewood Cemetery in Luverne, Minnesota.


Previous Events
Graveside Service
Maplewood Cemetery - Luverne
1242 W. Warren St.
Luverne, MN 56156
Cemetery Details
Location
Maplewood Cemetery - Luverne
1242 W. Warren St.
Luverne, MN 56156