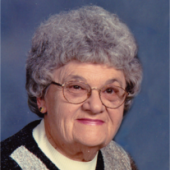 Obituary for Clarice M. Willems
CLARICE MAE WILLEMS was born to Clarence and Thelma (Aanenson) Torgersen on March 17, 1932 in Ottawa, Illinois. As a child, the family moved to Mankato, Minnesota and then to Magnolia, Minnesota after the death of her father. Clarice attended school in Adrian, Minnesota and graduated from Adrian High School in 1950. After high school Clarice began working at the Nelson Brother's store in Luverne. On October 19, 1953, she was united in marriage to Edmund Willems at St. Joseph Catholic Church in Jasper, Minnesota. Following their marriage, they lived in Baltic, South Dakota and then moved to Wagner, South Dakota where Ed was a plumber and Clarice worked at a grocery store and nursing home. The family then moved to Yankton, South Dakota where Clarice worked for Dale Electronics for many years. Ed was transferred to Watertown, South Dakota and Clarice began working at Midtex until her retirement in 1994. Not one to sit idle, Clarice decided to work a bit more and began as a server for the Watertown High School lunch program. She also worked at the voter registration table for her precinct for many years. Edmund preceded her in death on May 13, 2012. After his death, Clarice moved to Sioux Falls, South Dakota to be near her daughter. In April of 2015, Clarice moved into the Edgewood Vista Assisted Living in Sioux Falls where she resided until January 6, 2016 when she entered the Dougherty Hospice House in Sioux Falls. There she died peacefully on January 23, 2016 at the age of 83 years, 10 months and six days.

In her earlier years, Clarice was a member of St. Joseph Catholic Church in Jasper, Minnesota. She was also a member of the Catholic Church in Wagner, South Dakota, Yankton, South Dakota and Watertown, South Dakota and the Catholic Daughters. She loved bowling and participated on a team for many years. She and Ed enjoyed boating and fishing on Lake Kampeska and the Missouri River. Clarice enjoyed playing bingo, watching old, classic TV shows and NASCAR races. Most of all, she enjoyed spending time with her husband and family.

She is lovingly remembered by her two daughters, Debra and her husband Dave Woods of Geronimo, Oklahoma, and Diane and her husband Dave Martinson of Jasper, Minnesota; six grandchildren, Ryan (Heather) Woods, Jaime (Eli) Fisher, Miranda Wentzel, Lisa Wentzel, Elizabeth Martinson, and Philip Martinson; eight great-grandchildren, Michael, Seth, Lainee, Cameron, Braxton, Shania, Toby, and Ciara; and three brothers, Clarence "Dick" (Dottie) Torgersen of North Chili, New York, Jerry (Elsie) Wallace of Luverne, Minnesota, and Bill (Marcia) Wallace of Omaha, Nebraska. She is preceded in death by her husband, Edmund Willems; an infant son; her parents, Clarence and Thelma Torgerson; and her sister, Linda Wallace Kruger.


Previous Events
Memorial Visitation
St. Joseph Catholic Church - Jasper
415 2nd St. E
Jasper, MN 56144
Memorial Mass of Christian Burial
St. Joseph Catholic Church - Jasper
415 2nd St. E
Jasper, MN 56144
Cemetery Details
Location
St. Joseph Catholic Cemetery
160 State Hwy 269 Jasper, MN, 56144