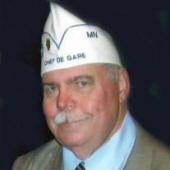 Obituary for Craig J. Boelter
Craig J. Boelter…

was born on July 13, 1946 in Minneapolis, Minnesota. In 1949, he and his twin brother were adopted by Harold and Agnes (Kempf) Boelter of Pipestone, Minnesota where he was raised and attended school. After his graduation from Pipestone High School in 1964, he attended Southwest State University in Marshall, Minnesota where he graduated as a member of the charter class several years later with a B.S. degree in Hotel/Restaurant Management. On January 11, 1967, he entered the United States Army where he served two separate enlistments as a NCOIC Sergeant during the Vietnam War. After his second honorable discharge from the Army on March 28, 1981, Craig returned to Pipestone where he bartended at almost every bar in town and did various other jobs. When McDonalds opened, he became employed as one of the supervisors. On December 21, 1996, Craig was united in marriage to Debra Carson at the First Presbyterian Church in Pipestone. Following their marriage, they resided in the same home in which Craig spent a collective 60 plus years! In 1999, he began working in the Administration Section at the VA Hospital in Sioux Falls, South Dakota. He retired as a Government employee on December 1, 2011. On Monday, December 31, 2012, he was admitted to the Pipestone County Medical Center where he died on Sunday, January 6, 2013 at the age of 66 years, five months and 24 days.

Craig was a member at St. Leo Catholic Church in Pipestone where he was active in the choir for many years. He was a member of the Michael Boock American Legion Post 6. Craig was very active his whole life serving various Veteran's organizations. He held the following positions for the American Legion, Commander of Michael Boock Post 6 in Pipestone, past District II American Legion Commander, and current Commander of the Sons of the American Legion District II and served on several state American Legion boards. For the 40/8, he held the following positions, current National Drapeau, National Cheminot Passe, Sous Cheminot Passe, Grand Chef De Gare Passe, Grand Chef De Train Passe, Sous Grand Chef De Train Passe, and Grand Garde De Porte Passe. He enjoyed baseball, football, golfing and hunting. Craig was also a world traveler, making several trips to Europe. He always had an enthusiastic personality, a great smile - a real "people person".

He is lovingly remembered by his wife, Debra Boelter of Pipestone, Minnesota; his twin brother, Keith J. Boelter of Delray Beach, Florida; his brother, Tom (Nancy) Juenemann of Waite Park, Minnesota and his sister, Doris (Hilary) Markfort of St. Cloud, Minnesota; and many nieces and nephews, great-nieces and nephews and great-great nieces and nephews. He is preceded in death by his parents and siblings, Larry Jueneman, Nancy Jueneman, William Jueneman and 12 other brothers and sisters. He is also remembered by Buddy and Tanner, his pet cats.


Previous Events
Visitation
St. Leo Catholic Church - Pipestone
415 S. Hiawatha Ave
Pipestone, MN 56164
Prayer Service
St. Leo Catholic Church - Pipestone
415 S. Hiawatha Ave
Pipestone, MN 56164
Mass of Christian Burial
St. Leo Catholic Church - Pipestone
415 S. Hiawatha Ave
Pipestone, MN 56164
Cemetery Details
Location
Old Woodlawn Cemetery
Pipestone, MN, US, 56164