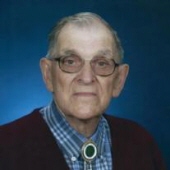 Obituary for Cyril Welter
CYRIL WELTER was born to Nicholas and Katherine (Nemmers) Welter on April 10, 1920 in Slayton, Minnesota. When he was a small child, he moved with his family to Woodstock, Minnesota where he was raised and received his education. In September, 1942, at the age of 22, he entered the U.S. Army and served his basic training in Leavenworth, Kansas. After completing his basic training, he served in England, France and in the Pacific during World War II. In February, 1946, he was discharged from the military and returned to this area where he was employed for a short time at Hallet Construction. He then began working for the Okeh Laundry in Pipestone. In 1950, he moved to Worthington, Minnesota; and in 1957, he became employed at Campbell's Soup Company in Worthington. He worked there for almost 26 years until his retirement in 1983. In 2006, he moved to the Nokomis Apartments in Pipestone. Recently, he became a resident of Falls Landing Assisted Living in Pipestone. On November 4, 2011, Cyril entered the Pipestone County Medical Center where he died on Monday, November 14, 2011, at the age of 91 years, seven months and four days.
Cyril was currently a member of St. Leo Catholic Church in Pipestone. While living in Worthington, he had been a member of St. Mary's Catholic Church. He was also a member of the Knights of Columbus, the Retired Men's Club, Michael Boock American Legion Post 6 in Pipestone, and the 40 + 8 Club. Cyril was very patriotic to his country, and over the years he served in the American Legion Honor Guard. He enjoyed fishing, and he especially enjoyed playing cards at the Community Center.
He is survived by several cousins. He was preceded in death by his parents and two brothers.


Previous Events
Visitation
St. Martin Catholic Church - Woodstock
101 Smith St N
Woodstock, MN 56186
Memorial Service
St. Martin Catholic Church - Woodstock
101 Smith St N
Woodstock, MN 56186