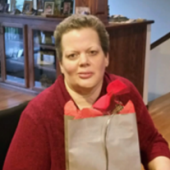 Obituary for Darla Chavis
DARLA KAY CHAVIS was born to Donald and Sharon (Erickson) Chavis in Jacksonville, Florida. As her father served in the military, Darla lived in various places throughout her upbringing. In 1987, she graduated from Akron Westfield High School in Akron, Iowa. During her working life she was employed at Iowa Lamb in Hawarden, Iowa, Tyson in Sioux Center, Iowa, Sioux Center Hospital in Sioux Center, Iowa, Truck Town in Beresford, South Dakota, Hudson Locker in Hudson, South Dakota and Shop-n-Cart in Brandon, South Dakota. Her favorite job throughout her life was "working" as a homemaker. In 2004, Darla moved to an acreage west of Beaver Creek, Minnesota. On Sunday, January 1, 2017 Darla died peacefully surrounded by her family at the Sanford Luverne Hospice Cottage in Luverne, Minnesota at the age of 47 years, 3 months and 29 days.

Darla was a member of the Beaver Creek Indian Tribe of South Carolina. Darla will always be remembered for her caring, generous heart and free spirit. She put her heart and soul into everything she did. Her girls were the light of her life and she would do everything she could to make sure they were always well taken care of. You would always find Darla at the farm taking care of her animals and German shepherd dogs, baking, cooking, feeding the chickens, gardening and creating fun for family and friends. She had a great love and devotion for her partner, Garry, and was so thankful for everything he did for her and the girls. She was an amazing Grandma to her two grandchildren and gave them unique and priceless adventures on the farm.

Darla is lovingly remembered by her partner, Garry Kodet of Redwood, MN; children, Erikka (Michael) Moe of Brandon, SD and Erinn Coulander (special friend, John Shape) and Emilee Kodet of Beaver Creek, MN; two grandchildren, Janessa and Mavrick Moe; her mother, Sharon Chavis of Hudson, SD; siblings, Debbie (Mark) Blankman of NE, Dee (Robert) Myers of ND, Daniel Chavis of Sacramento, CA, Desiree Chavis of Hudson, SD, and Devin (Mandy Shimel) Chavis of Sioux Falls, SD; and other family and friends. She was preceded in death by her father, Donald; her brother, Delwin Chavis; nephew, Ian Welch; an uncle, Dave; and her paternal and maternal grandparents.

Her family would like to give thanks to those who took part in Darla's care. A special thanks to her mother, Sharon, her brother, Daniel, the John and Mary Wilken family, the Michelle Sanderson family, Deb Parks, Sara Lanoue, Brynn Ladd and Michelle Pearson Bittner.


Previous Events
Gathering of Family & Friends
First Baptist Church - Luverne
1033 North Jackson PO Box 975
Luverne, MN 56156
Memorial Service
First Baptist Church - Luverne
1033 North Jackson PO Box 975
Luverne, MN 56156