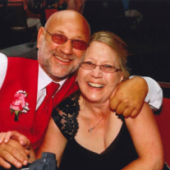 Obituary for Diana L. Reisdorfer
DIANA LORETTA REISDORFER was born on June 5, 1960 to Ardell and Elaine (Schwalbe) Roepke in Waconia, Minnesota. She was raised in Watertown, Minnesota until age six, when she and her family moved to a farm near Dassel-Cokato, Minnesota. She received her education in Dassel-Cokato and graduated from high school in 1979. She then furthered her education by attending Worthington Community College in Worthington, Minnesota. On September 9, 1979, Diane was united in marriage to Rick Reisdorfer at St. James Lutheran Church in Howard Lake, Minnesota. The couple made their home on Rick's parents' acreage and they were blessed with four children. Diane was often known as the "boss" of the house and cared for her family before beginning her career. Diane worked for a couple of years helping the youth at Pinnacle Home in Magnolia, Minnesota. She then served the Adrian Public Schools as their head cook for six years and later worked as an assistant general manager, then the general manager, at McDonald's in Luverne, Minnesota. In 2012, Diane was diagnosed with primary progressive multiple-sclerosis. Due to her health, she retired and continued to keep active on the home place while receiving great care and love from her husband and children. On Sunday, June 3, 2018, while surrounded by her family, Diane passed away peacefully at the age of 57 years, 11 months and 28 days.

Diane was a hard worker and determined. She found beauty in life and appreciated the little things. She was a wonderful cook and baker. Her family reaped the benefits of her homemade meals for the cost of just doing the dishes. She enjoyed flower and vegetable gardening, canning and sewing. She was proud to have constructed with care a quilt for each of her children and grandchildren. Above all, Diane valued her family most in her life. Diane always felt that the relationships you make and memories you create will last forever.

Diane's spirit will remain alive through her husband, Rick; four children, Jessie (Ryan) Wolf of LeSueur, Minnesota, Jemie (Steven) Booth of Spencer, Iowa, Justin (Marie) Reisdorfer of Oronoco, Minnesota and Jolene (Josh) Hanson of Mankato, Minnesota; grandchildren, Brandy, Jackson, Nick, Austin, Chase, Everleigh, Gideon, Oden and Natalie; mother, Elaine Roepke of Cokato; three siblings, Sheldon Roepke of Cokato, Allan (Mavis) Roepke of Dassel, and Susan Zeidler of Cokato; and other relatives and friends. She was preceded in death by her father, Ardell; her brothers, Kenneth and Roger; and two infant twin granddaughters, Nora and Amelia Reisdorfer.


Previous Events
open house to celebrate her life
Diane and Rick's Home
Adrian, MN, US