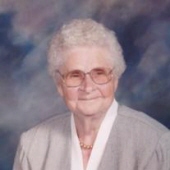 Obituary for Dorothy Mettler
DOROTHY METTLER was born on a farm near Wolsey, South Dakota on March 18, 1920. Her parents, Albert and Hulda Quiram, were German immigrants. Dorothy grew up on the farm with her four brothers and one sister. She attended grade school at the one-room country school close to the farm. She later got her GED when she was 68 years old, with the help of Clarice Nordmeyer of Lake Benton.

Dorothy met her future husband and the love of her life, Reinhold Mettler, at a barn dance. They were married on December 18, 1938. Dorothy and Reinhold had seven children, three boys and four girls. They lived on a farm near Wolsey until December 1954 when they sold out and moved to a dairy farm near Nevis, Minnesota. In 1964 Dorothy and her family moved to the Lake Benton area, where they became members of the old stone Lutheran Church near Verdi and transferred membership to St. John's Lutheran Church in Lake Benton when the congregations merged. In 1966 she began working at the Checkerboard Caf with her daughter, Jessie. Through the years Dorothy worked at several cafes in Lake Benton and was well-known for her wonderful pies and fried rolls with maple frosting. Dorothy lost her husband, Reinhold, in 1977. Later in life she joined the Green Thumb work force, working first at the Lake Benton school, then at the Senior Mealsite until she retired at the age of 83. Dorothy entered the Hendricks Nursing Home on February 27, 2007, where she died on Monday, February 7, 2011 at the age of 90 years, 10 months, and 20 days.

Dorothy enjoyed traveling, going on many trips with her daughters. She loved collecting recipes, church cookbooks, poems, and "Hints from Heloise." She also enjoyed walking and eating out, and loved country music.

Dorothy is lovingly remembered by four daughters, Deloris (and Don) Annis of Omaha, Nebraska, Jessie (and Roy) Bebensee of Elkton, South Dakota, Dorein (and Brian) Johnson of Clearwater, Minnesota, and Debra Mettler of Lake Benton, Minnesota, and one son, Marvin Mettler of Arnold's Park, Iowa; 12 grandchildren; 19 great-grandchildren; one great-great-grandchild; and many other relatives and friends. She was preceded in death by her husband, Reinhold; two sons, Gerald and Albert; her parents; four brothers; and one sister.


Previous Events
Visitation
St. John's Evangelical Lutheran Church - Lake Benton
113 Garfield Street
Lake Benton, MN 56149
Service
St. John's Evangelical Lutheran Church - Lake Benton
113 Garfield Street
Lake Benton, MN 56149
Cemetery Details
Location
St. John Immanuel Lutheran Cemetery
Verdi, MN, US