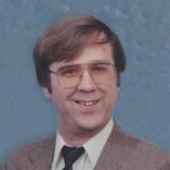 Obituary for Douglas Veldhuisen
Douglas Veldhuisen…

was born to Cornelius and Johanna (Kallemeyn) Veldhuisen on September 17, 1957 in Worthington, Minnesota. He lived and attended school in Hadley, Minnesota until 1967 when he moved with his family to Pipestone, Minnesota where he continued his education. After his graduation from Pipestone High School, he attended Mankato Technical College. In 1978, he moved to Bartlesville, Oklahoma and enrolled in a two year computer course at Tulsa Community College in Tulsa, Oklahoma. Upon completion of his education, he became employed by Reda Pump Company in Bartlesville where he kept their computers working for 30 years. For the past 18 months, he had been working for Hewlett Packard in Tulsa. Doug died unexpectedly at his home in Bartlesville on Friday, August 10, 2012 at the age of 54 years, ten months and 24 days.

Doug was a member of First Christian Church (DOC) in Bartlesville where he was a deacon and did their audio during church services and other computer related services. He was also a member of the Ham Radio Club. He enjoyed watching history or technical shows on T.V., especially "The Big Bang Theory". He liked looking at the stars, sometimes using a telescope. He was an animal lover as was his best friend, best gal of 22 years, Laura. She will miss him very much.

He is lovingly remembered by his longtime special friend, Laura Hines of Bartlesville, Oklahoma; his father, Cornie Veldhuisen of Pipestone, Minnesota; three siblings, Debra Olson and her husband Randy of Windom, Minnesota, Lori Veldhuisen of Edgerton, Minnesota and Michael Veldhuisen of Sioux Falls, South Dakota; one nephew, Jason Olson; and two nieces, Amanda Gorecki and her husband Adam and Brittany Hanson and her husband Danny. He was preceded in death by his mother, Johanna; twin brothers, David and Daniel; and his grandparents.


Previous Events
Graveside Service
Hillside Cemetery - Edgerton
614 6th Ave. W
Edgerton, MN 56128
Cemetery Details
Location
Hillside Cemetery - Edgerton
614 6th Ave. W
Edgerton, MN 56128