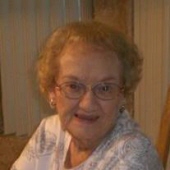 Obituary for Edna N. Krall
Edna Norma Krall was born on September 12, 1921 in Tyler, Minnesota, the third child of Peter and Karen (Larsen) Nielsen. Having emigrated from Denmark as children, the Nielsens elected to raise their children on a farm. Agnes, Harold and Edna helped with the chores of farm life and attended Sunny Side country school for their early education. After graduating from Tyler High School in 1938, Edna attended Mankato State College for two years to attain a teaching credential. Her education took her to a country school in Florence, Minnesota where she taught grades one through four to thirteen pupils. It was a great experience for Edna. She had one student who spoke only Norwegian, but her background in Danish aided her trials in communication. Not only did she teach a basic education, but she cooked a pot of hot food each day to supplement the cold sandwich brought by the children. Later, while teaching in Milroy and Ruthton, Minnesota, Edna attended night and summer school to attain further degrees from Mankato State, ending up with not only a degree and certification in teaching, but also in administration.

Teaching school was not the only interest that occupied Edna during this time of life. A young friend named Richard Krall had returned from service in the United States Navy. Soon, a marriage took place at Danebod Lutheran Church in Tyler, Minnesota on June 2, 1946. The young couple built a new building in Ruthton that would house their family business for many years—a furniture store. Even though time has changed that building to a bar, many folks in the area still enjoy their furniture that was purchased there. In 1950 their only child, Katherine, was born. Teaching called Edna again so, when Katherine was six years old, Edna returned to her chosen field of education, where she spent forty years in the classroom and the Principal's office until her health problems caused her retirement in 1987.

In 1989, Richard and Edna purchased a home in Alma Gardens in Mesa, Arizona. They had learned to love the desert southwest from their visits to a sister. Sadly, Richard passed away in 1990. Daughter Katherine and Loel have given Edna two grandchildren and four great-grandchildren. They all reside in the Mesa area. Edna was a member of the American Legion Auxiliary for 65 years. She was a leader of the Girl Scouts of America and a member of Hope Lutheran Church. Travel to Hawaii several times provided her with wonderful memories. Her only regret was that she did not return to Denmark for a visit with family there. Edna loved to read, did oil painting and pencil sketching, and enjoyed card games. But, she would quickly tell you that the real love of her life was her family. Edna recently entered Banner Baywood Heart Hospital in Mesa, where on Sunday, April 29, 2012 she died at the age of 90 years, 7 months, and 8 days.

Edna is lovingly remembered by her daughter, Katherine and her husband Loel Weatherly of Mesa, Arizona; grandchildren, Matt (and Tara) Weatherly and Jennifer (and Mark) Bustos; great-grandchildren Kayla and Hanna Bustos, and Mason and Katie Weatherly; and many other relatives and friends. She was preceded in death by her husband, Richard; her parents; her sister, Agnes Laursen; and her brother, Harold Nielsen.


Previous Events
Visitation
Hartquist Funeral Home - Tyler Chapel
100 US Hwy 14
PO Box 207
Tyler, MN 56178
Service
Peace Lutheran Church - Ruthton
900 Smith Ave
Ruthon, MN 56170
Cemetery Details
Location
Ruthton City Cemetery
1796 231st St Ruthton, MN, 56170-1055