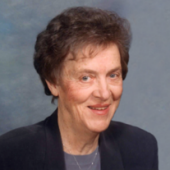 Obituary for Elda E. Trisko
ELDA E. TRISKO was born on January 23, 1928 to August and Frieda (Bruemmer) Jauert on the family farm in Mound Township of Rock County, Minnesota. She attended District 59 Country School and graduated from Luverne High School in 1945. Elda furthered her education and graduated from Airline Reservation School in Minneapolis, Minnesota. In 1947, Elda and her family moved to Luverne Township of Rock County, Minnesota. Elda worked as a bookkeeper for Van for a short time. She then continued her career as a bookkeeper at Creeger's, where she worked for 50 years. On January 4, 1960 Elda was united in marriage to Joseph Trisko at St. Magellan Church in Inglewood, California and the couple then relocated their home to Luverne, Minnesota. Joe preceded her in death on January 9, 2007. On Saturday, December 2, 2017 Elda passed away at Tuff Home in Hills, MN at the age of 89 years, 10 months, and 9 days.

Elda was baptized on January 29, 1928 and confirmed on July 4, 1943 at St. John Lutheran Church in Luverne. She continued to be a life-long member and sang in the church choir for 70 years. She was also a member of the Luverne Country Club and enjoyed golfing until she was over 85 years old. Elda's love for bowling began in high school and was carried throughout her life. She had a passion for traveling and treasured the time spent with her family in various parts of the country. Some of her favorite vacation destinations were the Bahamas, Canada, Alaska and New York City.

Elda is lovingly remembered by her sisters, Ardoth (Vern) Kraetsch of Windom, MN and Marilyn (James) Wright of Tulsa, Oklahoma, and many nieces and nephews. She was preceded in death by her husband, Joe; parents, August and Frieda; siblings, Russell, Roger, DeLores (Jack) Schafer, and Marlys (George) Babcock; and nephews, Ronald, Arlyn, Rick Jauert, and Jim Schafer.


Previous Events
Memorial Visitation
St. John Lutheran Church - Luverne
803 N. Cedar St.
Luverne, MN 56156
Memorial Service
St. John Lutheran Church - Luverne
803 N. Cedar St.
Luverne, MN 56156
Cemetery Details
Location
St. Catherine's Cemetery - Luverne
100 W. James St.
Luverne, MN 56156