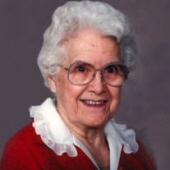 Obituary for Eloise Wohlford
ELOISE WOHLFORD was born on May 3, 1911 to Warren and Maude (Vickerman) Drew at home on the family farm north of Jasper, Minnesota. She attended and graduated from Jasper High School. While she was singing at a combined church choir musical, Eloise met Howard Wohlford. The couple was later married on June 3, 1931. They made their home on Howard's parents' farm and worked alongside of his family. Shortly before the war began, Howard left the farming operation and took the train to California where he was employed as an inspector at an aircraft factory in California. After the school let out for the summer, Eloise and their children made their way out to join Howard. Eloise also became employed at an aircraft factory as an inspector. She would take care of the children during the day and when Howard would return home, she would leave for her job at the factory. A few years later, the family moved to Belview, Nebraska. At this time, Eloise worked as an inspector for Boeing Aircraft and even did some work on the Enola Gay. The family later moved to a farm near Trosky, Minnesota and Eloise continued to care for their children, worked on the farm and even candled eggs in Pipestone, Minnesota. The family farmed until the mid-1950s. Following Howard's retirements the couple moved to North Carolina where they lived and were caretakers for a campground. In 1976, they returned to the area and made their residence in Luverne, Minnesota; moving the old train depot from Jasper to Luverne and remodeling it into their home. Eloise remained busy doing alterations for Creeger's. Howard preceded her in death on April 30, 1992. Eloise remained at their home where she was joined by a new housemate and daughter, Ardath.

On Tuesday, June 17, 2014 Eloise passed away peacefully at the Sanford Luverne Hospice Cottage at the age of 103 years, one month and 14 days.

Eloise was a member of the United Methodist Church in Luverne. Through the years she took great care of the church kitchen, was active in the United Methodist Women and loved singing in the church choir until she couldn't see well-enough to read the music. She was very dedicated to her handiwork of sewing, quilting, embroidering and hardanger, and enjoyed doing cloisonn, carving, and pastel acrylic and oil painting. Eloise enjoyed fishing, tending to her flowers and vegetable gardens, and the canning that came along with each year's harvest. A favorite interest became finding her genealogy and through her efforts Eloise was able to record her family's history to the 1000's. During her life, she also enjoyed traveling to many places in the United States and throughout the world. Although she was busy and worked hard, Eloise always made time for her family and friends and seldom left someone without a smile and the end of her visits.

Eloise is lovingly remembered by her two children, Ardath Schmidt and Harold "Buzz" (Joanne) Wohlford of Luverne; brother, Clayton William (Phyllis) Drew of Jasper; 11 grandchildren: Terry (Mercy) Schmidt, Douglas "Randy" Schmidt, Ellie Drew (Gary Chaplin), Harvey (Cindy) Schmidt, Brenda (Norman) Schmitt, Mark (Sontha) Wohlford, Theresa (David) Schuchmann, Donna Brandt, Robert (Linda) Young, Beth Moore (Tony Ralph), Belinda (Bruce) King; 33 great-grandchildren: Neil and Lacy Schmidt; Jerri (Mindy), Duane, Chelsey, and Ariella Schmidt; Kai and Koll Christenson; Cameron, Cody, Lysje, MacKinzee, Rebekah, and Jessica Schmidt; Renee (Mike Shang), Katie (Shaun Williams), and Gregory (Alicia) Schmitt; Danielle, Julienne, Dominique, and Jacqueline Mueller; Adam and Joshua Schuchmann; Peter and Manisha Wohlford; Twyla and Nathaniel (Bobbie)Young; Alexander (Andrea), Megan (Jeff Gilles), and Daniel Moore; Jonathan, Amber (Costa) and Tonya Ebalaroza; 16 great-great-grandchildren: Brooke Schmidt, Carter Peterson, Avert and Wyatt Schmidt, June Shang, Annabel and Logan Williams, Linley Schmitt; Tristan and Michael Young, Zachary and Tanya Duenas, Alana, Aydin and Aaron Moore, Anthony, Isaac, and Jadelynn Costa.

Eloise is also lovingly remembered as a wonderful aunt to 18 nieces and nephews: Beverly Gorder, Richard Jones (d), Roger Jones, Peggy Kroon, William Drew, Gerald Drew, Dianne Long (d), Maudie Tschetter, Robert Boese, Mary Ellen Ward, Mona TenNapel, Susan Drew (her favorite), Warren Drew, Billie Halbersma, Cheryl Pederson, Wayne Drew, Judy Evans, Bruce Drew, 36 great-nieces and great-nephews and 66 great-great-nieces and great-great-nephews.

Eloise was preceded in death by her parents; husband, Howard; daughter, Elizabeth Young; a great-grandson, Porter Schmidt; and three siblings, Vernon Drew, Francis Drew and Ruth Boese.


Previous Events
Memorial Visitation
United Methodist Church of Luverne
109 N. Freeman Ave.
Luverne, MN 56156
Memorial Service
United Methodist Church of Luverne
109 N. Freeman Ave.
Luverne, MN 56156
Cemetery Details
Location
Old Woodlawn Cemetery
Pipestone, MN, US, 56164