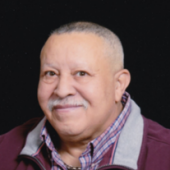 Obituary for Emeliano "Rick" Domena
EMELIANO 'RICK' ZAPPTA DOMENA was born on December 4, 1952 to Angelo and Marrea (Monez) Domena in Neptune, New Jersey. The family then moved to East Orange, New Jersey and moved again in 1970. Rick continued his education in East Orange, graduating from East Orange High School in 1971. Not long after his high school graduation, Rick enlisted in the United States Army. In 1974, two years into his military career, Rick was stationed at Ft. McClellan in Alabama. May 25th of that year, Rick married Paula Murphy. The couple remained in Alabama until 1977, when the two moved to Clarksville, Tennessee. Rick was honorably discharged from service in 1979. The couple then moved to Minneapolis, Minnesota. While in Minneapolis, Rick was baptized in the Lutheran faith at St. Peter's Lutheran Church in Edina, Minnesota. During the family's time in Minneapolis, Rick worked at Advanced Circuits until the family moved in 1990 to Duluth, Minnesota. After becoming acquainted with the area, Rick began working at the Red Lobster in Duluth until 2010. Rick also began working at Essentia Health Hospital in Duluth during 2009 and quit when the couple moved to Pipestone, Minnesota in 2012. While in Pipestone, Rick worked at the Good Samaritan Communities of Pipestone until his retirement in 2016. Rick passed away, with his loving wife, Paula, by his side, on Thursday, March 1, 2018 at the age of 65 years, two months, and 17 days.

Rick had a great love of his hobbies which included: bowling, shooting pool, and throwing darts. Although he truly enjoyed his hobbies, he cherished the time that he was able to spend with his family and friends above all else. He will be remembered by many for his love of life, his sense of humor, and his ability to make anyone smile at any time. He certainly had a heart for caring for the elderly, whom he cherished.

Rick is survived by his loving wife, Paula of Pipestone; two children, Melissa Domena of Duluth, Minnesota and Christopher Mahon of Indiana; four grandchildren, Gavin Yablonski, Braedon Mahon, Korah Mahon, and Rayvn Mahon; son-in-law, Eric Yablonski of Acworth, Georgia; five sisters; five brothers; and many other loving friends and family. Rick is preceded in death by his daughter, Francesca (Domena) Yablonski; a grandson, Hunter Christian Yablonski; and his parents.

Memorials may be directed to the Pipestone County Hospice House.


Previous Events
Memorial Visitation
St. Paul Lutheran Church - Pipestone
621 W Main St
Pipestone, MN 56164
Memorial Service
St. Paul Lutheran Church - Pipestone
621 W Main St
Pipestone, MN 56164