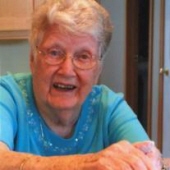 Obituary for Esther B. Paulson
ESTHER BERNICE BERG PAULSON was born on May 17, 1919, to Iver and Bergetta (Eiane) Levik on the family farm on the banks of the Perch Lake near Truman, Minnesota. She was baptized into the Christian Faith on June 8, 1919, at the Waverly Lutheran Church near Trimont, Minnesota and was later confirmed on April 9, 1933 at the St. Paul Lutheran Church near Truman, Minnesota. She attended Rural School District 107 in Westford Township of Martin County then Truman High School graduating in 1937. She helped on the family farm and on September 5, 1943, Esther married Earl A.C. Berg. To this union two sons were born, Rolf and Larry. Earl passed away from complications of Leukemia on August 24, 1949, seven months before Esther gave birth to their second son, Larry Earl. Due to the little known condition at the time, called the RH factor, Esther and baby Larry faced many tests and hospitalization stays. The community surrounded this young widow and her young son with kindness and support. On April 29, 1952, Esther received a call from the hospital that Larry had gone to be with Jesus and his father. Despite her life's trials Esther's faith grew tremendously as she and Rolf continued to live on the family farm with her brother, Roy Levik.

In 1958, Esther felt her faith call her into action and moved to Minneapolis, Minnesota, to attend the Lutheran Bible Institute. She studied to become a Parish Worker and in 1959 she was called to Luverne, Minnesota, to begin her Parish Work career at Grace Lutheran Church. Over her career at Grace Lutheran Esther taught Sunday school, confirmation classes, bible studies, WINGS, and conducted church visitations. She served on many church boards and other committees while at Grace Lutheran. Esther was an active member in the Waverly Mothers Club which brought about a cook book called "Adventures in the Kitchen". She was instrumental in promoting the Pocket Testament Movement, a group dedicated to daily reading of the Bible.

Esther was untied in marriage to Roy C. Paulson in June 9, 1963. With Roy's passion for music especially the violin Esther's love of music blossomed and together they strengthened their faith through their participation at Grace Lutheran Church. Roy passed away March 24, 1981. Esther's hobbies included flower arranging, painting and a love of travel. Her adventures took her through many states, Canada, and included several trips to Norway. Esther was a woman who fully embraced her Norwegian heritage and shared this with her dear friends. Over the years Esther's home was open to many guests and friends; the young and young at heart. One of Esther's "hostess high lights" was having the "Grace Notes", a local violin ensemble, practice regularly in her home. She fondly recalled Roy's love of the violin as she enjoyed their magical musical time together.

Esther passed away peacefully on Thursday, October 6, 2011 at the Sanford Luverne Hospice Cottage at the age of 92 years, 4 months, and 19 days.

Esther is lovingly remembered by son Rolf Berg and wife Sharleen of Sherman, Texas; step-son, Keith Paulson and wife Ruth of Sedona, Arizona; grandsons, Eric Berg of Minneapolis, Minnesota, Peder (Robin) Berg of London, England, Leif (Bridget) Berg of Champlin, Minnesota; step-grandchildren, Steve Hartmann of Cotati, California, Pastor Brian (Jill) Paulson, and Dianne (Brian) Springfield; four great-grandchildren, Kramer, Piper Ella, Alexander, and Madeline; sister-in-law, LaDonna Levik of Fairmont, Minnesota; brother-in-law, Richard Bock of Minneapolis, Minnesota; and many other family and friends. She was preceded in death by her parents, her husband, Earl Berg; son, Larry Berg; husband, Roy Paulson; step-daughter, Camille Hartmann; sisters, Alma Bock, Norma Levik; and brother, Roy Levik.

God Bless the life and love Esther shared with all who knew her!


Previous Events
Visitation
Hartquist Funeral Home - Luverne Chapel
207 Elm St.
Luverne, MN 56156
Celebration of Life
Grace Lutheran Church - Luverne
500 N. Kniss Ave.
Luverne, MN 56156
Cemetery Details
Location
Waverly Lutheran Cemetery
1333 220th St Trimont, MN, 56176