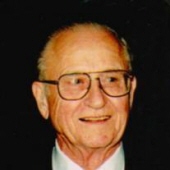 Obituary for Frank Thomas Kotula
Frank Kotula was the tenth of fifteen children born to Thomas and Frances (John) Kotula on November 1, 1920 on the family farm in Todd County, Minnesota, near Clarissa, where he was raised. He attended school in Clarissa, Minnesota. After his high school graduation, he moved to Chicago, Illinois and trained there as a machinist. On August 31, 1943, he entered the U.S. Navy and served in the Pacific during World War II. Following his discharge from the service on March 5, 1946, he moved to Minneapolis, Minnesota and began working for General Mills. While working for them, he helped invent the Cheerios gun. On October 9, 1948, he was united in marriage to Marian Willson in Minneapolis. To this union, two children were born, Deborah and Paul. Frank later became employed at the University of Minnesota in the machinist lab where he invented many medical devices, including the "stent". He left this job and moved the family to Alexandria, Minnesota where he owned and operated the Deer Park. Three years later, he returned to his former occupation at the University Minnesota. He continued to work there until his retirement. Marian preceded him in death in May, 2002. After her death, he became a resident of The Commons on Marice assisted living facility in Eagan, Minnesota. Then, in April, 2010, he entered the Minnesota Veterans Home in Luverne, Minnesota where he died on Saturday, February 25, 2012, at the age of 91 years, three months and 24 days.

Frank and his wife enjoyed going south to Arizona during the winter months after he retired. For many years, he enjoyed hunting, fishing and golfing with his brothers.

He is lovingly remembered by his two children, Deborah and her husband Marvin Hilgemann of Pipestone, Minnesota, and Paul and his wife Cheryl Kotula of Woodbury, Minnesota; three grandsons, Christopher and Michael Hilgemann and Ross and his wife Corey Kotula; two brothers, Vernon Kotula of Phoenix, Arizona, and Thomas and his wife Bette Kotula of Brainard, Minnesota; and two sisters, Cecelia Eldred of Minneapolis, Minnesota, and Shirley McAnaney of Chicago, Illinois. He was preceded in death by his wife; his parents; and ten of his brothers and sisters.

Interment was held in Fort Snelling National Cemetery and a Memorial service will be held at a later date.