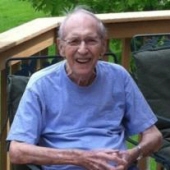 Obituary for Gerald "Bob" Hussong
GERALD C. 'BOB' HUSSONG II was born in Ames, Iowa, to Gerald C. Hussong I and Ruth (Kennedy) on July 31, 1921. He was baptized in 1937 at Ellsworth Union Church in Iowa and later confirmed on February 13, 1958 at St. John Lutheran Church in Luverne, Minnesota.

Bob had many memories of growing up during the Great Depression. His family didn't have much material things. One day, his mother gave him a quarter to go to the meat market and get a pound of hamburger. Because of the cost, having fresh meat was a treat for them. He recalls that eggs cost 10 cents a dozen, and a person could rent a nice home for $5 per month.

Bob worked in a gas station when he was 14 years old. Gas was 15 cents per gallon. Bob's father only made $3 a day or about $100 a month to support their family.

Bob attended Central College in Pella, Iowa, after graduation from high school. He was unable to attend straight through because of World War II. He auditioned for the Boston Opera, but could not pursue it because he was enlisted into the United States Army. During the war, Bob had combat duty in the South Pacific on the island of Peleliu. He held the rank of staff sergeant at the end of the war.

When he returned, Bob met his future wife, Audrey Kinsman, at a gathering with friends. They didn't date long before Bob said to her, "Don't you think it's time to get married?" She agreed, and they began their union of 58 years. Bob and Audrey lived in Pella so Bob could finish college. He graduated with a degree in social studies and vocal music.

Audrey loved flowers and worked as a florist. Once a week Bob and Audrey went to the local drug store to treat themselves to a chocolate shake to share, because at the time it cost 50 cents and they didn't have a lot of money.

Following college, Bob taught history in Alexander, Iowa. He taught and became principal for three years. Then they moved to Luverne, Minnesota, where he taught history, music, driver's education and directed the junior class play. He taught history classes for a total of 31 years in the Luverne school system. Along with teaching, Bob also enjoyed playing in the local group, Luverne Aires.

During their retirement the couple spent summers at a lake in northern Minnesota and winters in Florida near two of their children. Bob enjoyed following the Minnesota Twins baseball team on TV. He played baseball in high school, college and during his service in the Army. He also enjoyed learning about the Civil War and keeping up with current world affairs.

Audrey preceded Bob in death on November 16, 2004. On Thursday, July 28, 2011 Bob died at the North Memorial Hospital in Robbinsdale, Minnesota at the age of 89 years, 11 months and 28 days.

Bob is lovingly remembered by his three children, Cynthia (Craig) Laberee of Ft. Walton Beach, Florida, Nancy Hussong of Ft. Walton Beach, Florida, and Jeff (Anne) Hussong of Maple Grove, Minnesota; four grandchildren, Rebecca, Kristen, Brittany, and Joshua; and a brother, Harry (Virginia) Hussong of Bettendorf, Iowa. He was preceded in death by his wife, Audrey; and parents.


Cemetery Details
Location
Maplewood Cemetery - Luverne
1242 W. Warren St.
Luverne, MN 56156