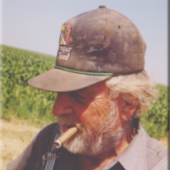 Obituary for Gerald Lorenzen
Gerald John Lorenzen…

was born to Herman and Maria (Oye) Lorenzen on April 9, 1927 on a farm near Trosky, Minnesota. He was baptized in the German Lutheran Church in Edgerton, Minnesota. He was raised on the family farm and attended country school through the sixth grade. Upon completion of his education, he helped on the farm. When he was 17 years old, he began working for area farmers. Two years later, he became employed at Connell Chevrolet in Luverne, Minnesota. On September 19, 1945, he was united in marriage to Lois Staeffler at the Methodist Church parsonage in Lake Benton, Minnesota. Following their marriage, they lived in Hardwick and Gerald continued to work in Luverne. In 1947, they moved to a farm east of Jasper, Minnesota; and in 1950, they moved to a farm south of Jasper. Lois preceded him in death on February 25, 2008. After her death, Gerald continued to live on the farm. Gerald died unexpectedly at his home on Wednesday, July 27, 2016 at the age of 89 years, three months, and 18 days.

Gerald loved to farm, especially cultivating and watching the new baby calves in the spring, but he always hated milking cows. If you were searching for something, he always remembered and found what you were looking for. Between the livestock and the kids, he always found something to holler about.

He is survived by his 12 children, Judy (David) Dunn of Dallas Center, Iowa, Karen (Rick) Kitto of Pipestone, Minnesota, Douglas Lorenzen of Jasper, Minnesota, Roger (Linda) Lorenzen of Madras, Oregon, Shirley (Alan) Roemeling of Paynesville, Minnesota, Michael Lorenzen of Jasper, Minnesota, Patti Frey of Brookings, South Dakota, Pamela Lorenzen of Albion, Oklahoma, Jayne (Greg) Nordang of Wood Lake, Minnesota, Jeffery Lorenzen of Bird Island, Minnesota, Joel Lorenzen of Ihlen, Minnesota, and Bradley Lorenzen of Jasper, Minnesota; 23 grandchildren; 27 great-grandchildren; and his sister, Luella Haraldson of Jasper, Minnesota. He is preceded in death by his wife, Lois; infant twin daughters, Jeraldine and Jacqueline; his granddaughter, Kami Fortune; four brothers, Eldo, Alvin, Orland and Verdean Lorenzen; and four sisters, Evangeline Staeffler, Vernice Roemeling, Betty Sumption, and Alice Porter.


Previous Events
Graveside Service
Trosky Cemetery
Trosky, MN, US
Trosky, MN 56144
Cemetery Details
Location
Trosky Cemetery
Trosky, MN, US
Trosky, MN 56144