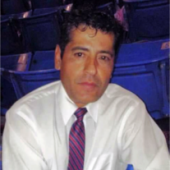 Obituary for Ignacio Lomeli
IGNACIO 'NACHO' LOMELI was born on August 27, 1966 at Tlaquepaque, Jalisco, Mexico, the second child of Ignacio Lomeli Arambula and Maria de Jesus Cazares Santibanez. He attended Politecnico College in Guadalajara, Mexico in 1984. He then played semi-professional soccer for Tecos UAG until he was 18 years old. Nacho, as he became to be called, enjoyed spending time at the bike shop with his grandpa. His vacation time was spent helping his father building schools and other construction projects. On January 28, 1989, Ignacio was joined in marriage with Maria Guadalupe Esparza Gutierrez. The couple resided in Covina, California. Two children were born to their marriage: Spencer Lomeli and Marisol Lomeli – they were his pride and joy, his "King" and his "Queen".

Nacho loved playing soccer with all of his brothers. He was very dedicated to his work in the roofing trade since 1986, along with all of his brothers. In 1992, Nacho moved to Ontario, California and remained working in the roofing profession. In 2007, he moved back to Guadalajara to be with his family. He enjoyed helping his father-in-law through his medical needs. In 2009, Nacho moved to Luverne, Minnesota, where he lived with a special friend and had two children together: Jasmine Rose Lomeli and Paul Ignacio Lomeli.

Nacho had a great sense of humor. He always was ready with a joke to tell, regardless of the circumstances. He loved his job and held a passion for roofing. He held a deep respect for his boss, Mitch Kern. Nacho proved to be a hardworking man until Thursday, April 5, 2018 when he passed away surrounded by his love ones at the Avera McKennan Hospital in Sioux Falls, South Dakota at the age of 51 years.

Some of Nacho's favorite music to listen included the bands Scorpion, Bon Jovi, Creedence Clearwater Revival, Kenny Roger's, Johnny Cash, Bryan Adams, Queen, Lionel Ritchie and other classic soft rock bands. He liked to sing to Vicente Fernandez songs. He will be remembered as a friendly, funny and respectful man. He made lasting friendships in every place he went. Nacho left this world with a clean and pure heart and proved to be a loyal and caring man, loved by everyone.

Nacho will be lovingly remembered by his parents, Maria and Ignacio Lomeli; wife, Maria Guadalupe Esparza Gutierrez; children, Marisol Lomeli of Pinon Hills, California, Spencer Lomeli of Las Vegas, Nevada, Jasmine Rose Lomeli of Luverne, and Paul Ignacio Lomeli of Luverne; sister, Luz Cristina Amezcua (Francisco) of California, Javier Lomeli (Lourdes) of Las Vegas, and Oscar Lomeli (Erika) of California, and Guillermo Lomeli of California; grandson, Nathaniel Alexander Garcia; son-in-law, Alexander Gregorio Garcia; nieces, Becky, Monica, Lourdes, and Judith; nephews, Elai and Josiah; special friend, Rebecca Gutierrez; four step-children, Betania, Jocelyne, Noemi and Valeria; many uncles, aunts, cousins, compadres, his boss, Mitch Kern and many friends.


Previous Events
Time For Drive Through Condolences
Grand Prairie Events
105 South Estey Street
Luverne, MN 56156