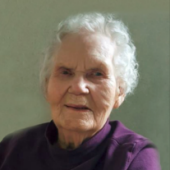 Obituary for Irene Ida Caroline Schalow
Irene Ida Caroline Schalow...

passed away on the afternoon of February 16, 2018 at the Pipestone County Hospice House in Pipestone. She passed in her sleep with beloved niece Marlys by her side. While the angels rejoice, her family mourns.

Irene was born on May 23, 1920. She was the 3rd of 9 children of August and Hortense Peterson. Irene and her siblings grew up on the farm their grandfather homesteaded in 1891 in rural Pipestone County, a farm that is still in the Peterson family today. Irene loved her farm upbringing and being part of a big family, and did most of the cooking for the farm family. She and her sisters and brother also tended livestock, rode horses, pulled weeds, baled hay and were rumored to cause occasional mischief.

They were also educated. In those days, many kids received only 8 years of public education, but Irene and her siblings graduated high school. To do so, the kids rented a boarding room in town. That was how she met Otto Schalow, who lived across the street from where Irene boarded in the winter months. The benefits of a higher education apparently included meeting your life partner, as Irene and Otto eventually married and started a family.

While Irene was a farm girl, Otto was not. Their life together took Irene from farm country as they packed their five children and belongings and moved to Fort Dodge, IA and then to Pequot Lakes, MN where they lived for almost half a century. In Fort Dodge the family lost daughter Barb to an auto accident and daughter Bev to cancer, as well as both of Irene's parents to old age. Those were tough days for the family, but Irene learned how resilient she could be and never lost her faith.

Moving to Pequot Lakes was a challenge and a blessing. The lake country is beautiful, but jobs are only plentiful during the summer. Otto's business was tourism-based, so Irene went to work. She waitressed, cooked, and cashiered and her farm girl work ethic was eventually noticed by the town doctor who recruited her to be his lab tech. He trained her and Irene proudly spent the rest of her working career as part of Dr. Spieler's medical team in Pequot Lakes.

After Irene and Otto retired, they decided that 60+ years of Minnesota winters was enough and looked for a warmer place to spend the winters. After trying a few spots they settled on Gulfport MS and spent many years at a place on the beach. When Otto succumbed to cancer in 2004, Irene had already decided that she wanted to return to her family in Pipestone which is where she spent the rest of her life.

Irene's highlight reel would include her life as an artist, as her oil paintings and watercolors would win awards and hang in the state capitol, as well as on the walls of dozens of friends and relatives. She was also easily persuaded to play anything with a keyboard (piano, organ, accordion). Irene played by ear and wisely used volume to compensate for not being able to read music.

Irene would insist on letting you know that taking care of your health was important. She demonstrated that belief by learning to swim after moving to Pequot. Her swim cap, life belt and flippers announcing the opening and closing of the swimming season on Kimball Lake, where she swam daily when the ice was gone. Never mind the ten trips up and down the hill to the lake (about 30 stories total) as a warm up, or the miles she'd put on her bikes in all seasons. To be fair, after years of working for Doc Spieler she would be quick to advise you to get a second opinion. Then would recommend you ask her older sister, Juanita!

The family would vouch for her cooking and baking skills, honed on the farm years ago, where she could work magic with meager and sometimes odd ingredients that would have you asking for more. When you visited, she would make sure her kids and grandkids got all their favorite meals and treats.

She wouldn't tell you, but you'd soon find out not to underestimate her in card games like pinochle, cribbage, or gin rummy. If you went fishing together she'd listen to your advice and then just simply out fish you, leaving you wondering who should've been listening to who's advice!

Irene also believed in "practice, practice, practice", but determined after an incident involving a toilet and a bowling ball that even practice should be done in moderation.

Irene leaves behind daughter, Diane Connor; son, Ted (Lea) Schalow and daughter-in-law, Mary Schalow; sisters, Juanita Johnston and Bernice Alexander; and sister-in-law, Marion Peterson; grandchildren, David Schalow, Deb Schalow, Jaci Schalow, Jeff (Terri) Davis, Andi (Fred) Ista, and Tara Schalow; great-grandchildren, Colby, Colin, and Keagan; great-great-grandchildren, Colin Jr, and Everly; and many nieces, nephews, and other extended family members.

Irene was preceded in death by both parents; husband, Otto; daughters, Barbara and Beverly; son, Robert and son-in-law, Frank Connor; siblings, Eloise, Irma, Myrt, Mil, Dorothy, and Carl; and many beloved in-laws; nieces and nephews. In lieu of flowers, the family suggests a memorial in support of the St. Paul Lutheran Church organ repair fund.


Previous Events
Memorial Visitation
St. Paul Lutheran Church - Pipestone
621 W Main St
Pipestone, MN 56164
Memorial Service
St. Paul Lutheran Church - Pipestone
621 W Main St
Pipestone, MN 56164
Cemetery Details
Location
Old Woodlawn Cemetery
Pipestone, MN, US, 56164