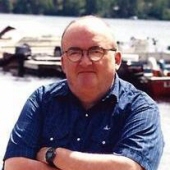 Obituary for James Adams
JAMES HARVEY ADAMS was born to Harold and Anne Catherine (Broderick) Adams on July 18, 1947 in Cloquet, Minnesota. He spent the first few years of his life in Superior, Wisconsin where his father worked as a tower agent for the Great Northern Railroad. When Jim reached school age, his parents moved the family to the Askov-Kerrick, Minnesota area where his father worked as the station agent for Sandstone, Minnesota and where Jimmy started school. He attended the Askov School District until he graduated in 1965. While in high school, he directed the senior class play and began developing his lifelong interest in drama and theater production. After graduation, he enrolled in the University of Minnesota-Duluth and majored in English, education, and theater arts courses. Upon graduation with his teaching degree in hand, James interviewed for and was awarded a job with the Pipestone School District. He spent the next 37 years teaching, directing plays and coaching speech activities in Pipestone. His productions and speech teams were awarded high honors in the one-act drama contests and went once to the state drama contest. He was able to coach several young people to winning performances in state speech contests and was very proud of all his students, remaining close to several students after graduation and over a long period of years.

In 1971, James married his college sweetheart Patricia A. Stead. The couple made their home in Pipestone, working in the school and eventually retiring from education in 2006. During those years and after retirement, James continued his participation in civic organizations such as Historic Pipestone, Inc., the Pipestone County Historical Society, Pipestone Area Friends of the Library and many productions at the Pipestone Performing Arts Center. He ran lights and helped with technical work on many different productions including some Opland Singers shows, many special programs such as last month's Sisters show and starred as the wizard in "The Wizard of Oz". During this time, his wife joined him in his pursuit of drama and they enjoyed many years of attending other productions all around the area.

James developed atrial fibrillation in 1996 after a virus attacked his heart, but doctors were able to get his heart back into rhythm after four cardioversion treatments. In April, 2011, he again developed the disease and grew weaker when breathing problems were added in May. Finally, this Tuesday the load of trying to breathe and the uneven rhythm of his heart became too much for his body to handle and Jim went home. He died at the Pipestone County Medical Center on Tuesday, August 10, 2011 at the age of 64 years and 23 days.

James is lovingly remembered by his wife, Patricia Adams of Pipestone, Minnesota. He was preceded in death by his parents; his father-in-law and mother-in-law with whom he was very close; and one sister-in-law.


Previous Events
Old Fashioned Irish Wake
Pipestone Performing Arts Center
104 E. Main St.
Pipestone, MN
Sharing of Memories
Pipestone Performing Arts Center
104 E. Main St.
Pipestone, MN