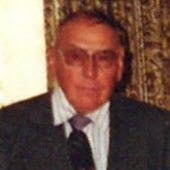 Obituary for John F. Honken
JOHN FRED HONKEN was born on May 22, 1929 to Fred and Gertrude (De Groot) Honken on a farm in Battle Plain Township northwest of Kenneth, Minnesota. He was raised on various farms near Kenneth, Jasper, and Hardwick, Minnesota. During that time he attended District 55 country school before later finishing his education in Jasper. Following his schooling, John helped out on his parent's farm. He then went to work driving truck for Hatting Gravel in Luverne, Minnesota. He made his home in Luverne and continued to help out on the farm. In 1962, John went to work for the Rock County Highway Department. In April of 1968 he moved to Wakefield, Nebraska and began working with Sorenson' Trucking until he took over the business with a partner in 1969. A short time later he went out on his own and became a self-employed trucker. In 1979, John sold his trucks and moved to Valley Springs, South Dakota. He then began hauling grain for the local farmer's elevator. The next year he began hauling grain for Hunnings elevator in Canton, South Dakota. In 1991, he sold his outfit and went to work for Palisade Oil in Garretson, South Dakota, where he was employed until retiring in 2005. He continued to stay busy by taking on miscellaneous carpentry jobs. In the fall of 2010 John decided have a sale and then make the move to Stony Brook Assisted Living Facility in Sioux Falls, South Dakota. On Tuesday, November 8, 2011, John died at the Covington Heights Care Center in Sioux Falls at the age of 82 years, five months, and eight days.

In his earlier years John enjoyed driving motorcycles and maintaining his trucks. Later in life he enjoyed sitting on a chair in his garage and watching people pass by on the street. He also enjoyed gardening and driving around to look at pickups that were for sale. Throughout his life, John took a deep appreciation and love in the simple things found in daily life – such as mowing the lawn or trimming the trees to name a couple.

John is lovingly remembered by his sister, Shirley Honken of Hills, Minnesota; and three brothers, Carroll and his wife Bernice Honken of Pipestone, Minnesota, Donald Honken of Pipestone, Minnesota, and Fred Honken of Muscatine, Iowa. He was preceded in death by his parents, Fred and Gertrude; and two brothers, Carroll Gene Honken and Henry Honken.


Previous Events
Visitation
Hartquist Funeral Home - Luverne Chapel
207 Elm St.
Luverne, MN 56156
Service
Hartquist Funeral Home - Luverne Chapel
207 Elm St.
Luverne, MN 56156
Cemetery Details
Location
Maplewood Cemetery - Luverne
1242 W. Warren St.
Luverne, MN 56156