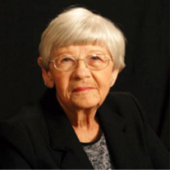 Obituary for Judy Hawes
JUDY MAE HAWES was born on January 11, 1941 to John and Elizabeth (Peters) Stuckenbroker on a farm located two and a half miles north of Hardwick, Minnesota. She was baptized in 1941 and made a confirmation of her faith in 1954 at the Zion Lutheran Church in Hardwick. She spent her childhood on the farm. She graduated from Luverne High School in Luverne, Minnesota in 1958. She married her childhood sweetheart, Dale Hawes, on July 16, 1958 at the United Methodist Church in Jasper, Minnesota. The couple made their home on the farm near Jasper, Minnesota. In 1962, they moved to an acreage outside of Luverne where they worked together on the farm and raised their family. Following retirement in 2014, the couple moved into Luverne. On January 3, 2017, Judy died surrounded by her family at the Sanford Luverne Hospital at the age of 75 years, 11 months, and 25 days.

Judy was a member of the Luverne United Methodist Church. She enjoyed cards, bowling, sewing, crocheting and embroidery. She especially enjoyed music and dancing. Most of all, Judy was very proud of her grandchildren and great-grandchildren.

Judy is survived by her husband of Luverne, Dale; her children, Randy (Noreen) Hawes of rural Trosky, Minnesota and Ricky Hawes of Sioux Falls, South Dakota; seven grandchildren and 13 great-grandchildren: Elizabeth (Travis) Lange and their children, Naomi, Tavian, Kianna, Kierra; Brianna (Nick) Werner and their children, Emeri, Ellie, and Charles; Andrew (Holli) Ring and their daughter, Emmah; Bridget Ring, Craig (Kathy) Hawes and their children, Perceyis and Marayna; Jason (Jenni) Hawes and their children, Kyton and Dayson; and Austin (Katie) Hawes and their son, Haydon; and son-in-law, Mark Ring of Minneapolis, Minnesota; three siblings, Harry (Doris) Stuckenbroker of Pipestone, Minnesota, Johnny (Helen) Stuckenbroker of Hardwick, Minnesota and Gladys Buss of Lismore, Minnesota. She was preceded in death by her daughter, Pamela Ring; three siblings, Alvin Stuckenbroker, Arlene Sievert and Viola Schmuck.


Previous Events
Memorial Visitation
United Methodist Church of Luverne
109 N. Freeman Ave.
Luverne, MN 56156
Memorial Service
United Methodist Church of Luverne
109 N. Freeman Ave.
Luverne, MN 56156
Cemetery Details
Location
Jasper City Cemetery
Jasper, MN, US