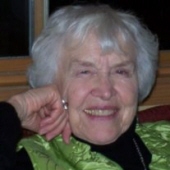 Obituary for Kathrine Rix (Utoft) Jorgensen
KATHRINE RIX (UTOFT) JORGENSEN died peacefully surrounded by family on August 4, 2013 at Evergreen Hospice in Kirkland, WA. She was 87 years old.

Daughter of Andy and Anna Utoft of Tyler, MN and wife of the late Erling S. Jorgensen, Kathrine is survived by daughters, Susan (Ed) Bukovinsky, Margaret Knight, and son Mark Jorgensen all of the Seattle area, grandchildren Eric (Dana) and James (Meri) Bukovinsky, Sydney Knight, Hailey and Ali Jorgensen, and great-grandchildren, Colton and Makenna. Kathrine is also survived by sisters, Phyllis Johansen of Tyler, MN, Joan Gilmore of Bloomington, MN and brother Charles Utoft of Victoria, MN. She is preceded in death by sister Helen Skov of Marshalltown, IA.

Most recently a resident of Overlake Terrace in Redmond, WA, Kathrine lived in many places throughout her life. She was born in Des Moines, IA and grew up in Tyler, MN. College brought her to Iowa and her early working career took her to Minneapolis. Once married in 1950, she and Erling as a part of his academic teaching career, moved to many college towns; Lincoln, Nebraska, Madison, Wisconsin, E. Lansing, Michigan, Missoula, Montana, W. Lafayette, Indiana and back to E. Lansing. She embraced her adventurous life and left pieces of her heart and dear friends at each home. Retirement brought them finally to Green Valley, AZ where they relished the warm golfing weather, friends and fun times. An avid and accomplished sportswoman, Kathrine was a devoted college sports fan. Michigan State became her longest residence and won her steadfast devotion. Her work at Michigan State University's library encompassed her love of books and reading as well as her skill in helping those 'lost in the stacks'. A terrific cook, Kathrine's parties were legendary for great food and fun.

Kathrine was a wonderful friend, cherished sister, and beloved mother and grandmother. Always available for a good chat, hot cup of coffee, encouragement and support, Kathrine will be missed terribly.

Burial will be August 24, 2013 in Tyler MN.

Remembrances can be made at Evergreen Hospice - 12822 124th Lane NE, Kirkland, WA 98034 or Michigan State University Libraries' Endowment Fund.


Previous Events
Graveside Service
Danebod Cemetery - Tyler
RR 2
Tyler, MN 56178