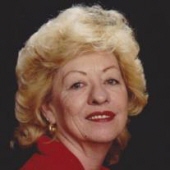 Obituary for Lou Ann Pistachio
LOU ANN PISTACHIO was born on December 10, 1946 to Carl and Bernice (Bladen) Amundson in Glendale, California where she was raised in California. She received her education at Beachy Elementary, Pacioma Junior High and San Fernando High in San Fernando, California. After her education, Lou Ann started her family. She had her five children by the time she turned 21 years old. In 1963, Lou Ann was united in marriage to Ronald Kirkpatrick in Las Vegas, Nevada. To this union two children were born, Danette and Daniel. After the dissolve of their marriage, Lou Ann was united in marriage to Gus Pistachio, Jr. in North Hollywood, California. To this union, three children were born, Bryan, Shelley and Anthony. Lou Ann worked various waitressing jobs until the early 80's when she began working for Rockwell International on the B1 bombers as a structural flight mechanic. After a work related accident, she was trained as a school bus instructor for the State of California. She remained in this position until she suffered a heart attack at the age of 49. At that time, they went to live with their daughter, Danette in Sandy Valley, Nevada where she worked as a change hostess for the Gold Strike Casino in Las Vegas. In 2002, Gus preceded her in death. In 2003, Lou Ann moved to Pipestone, Minnesota with her special friend, Don Stevens. In 2012, she moved to Iona, Minnesota. While there, she worked as a waitress at the Hub in Slayton, Minnesota, and then as a bartender at her daughter, Danette's bar, Buffalo Ridge's Wildrose Saloon in Lake Wilson, Minnesota. She worked as her health would allow. On Monday, March 9, 2015, Lou Ann was admitted into Sanford Medical Center in Sioux Falls, South Dakota where she remained until her death on Wednesday, March 25, 2015 at the age of 68 years, three months and 15 days.

Lou Ann was a member of the VFW Auxillary in North Hollywood, California and president of the Junior Girls of the VFW. She was also a member of Norwalk Centaurs Motorcycle Club. She had several hobbies, her favorite was gambling at any and all casinos. Lou Ann enjoyed riding motorcycles, decorating for Christmas and collecting tea pots. She also enjoyed traveling and the beach. Most of all, she loved spending time with her family, especially her grandchildren.

She is lovingly remembered by her three children, Danette Mestas of Lake Wilson, Minnesota, Daniel Kirkpatrick of Lake Wilson and Anthony Pistachio (fiance, Kayla Fuller) of Iona, Minnesota; eight grandchildren, Burgundy (Dustin) Clark of Tehachapi, California, Ashe Yaw of Lancaster, California, Tonya (Colby) Petersen of Caldwell, Idaho, Joany Wilson of Caldwell, Dylan Pistachio, Alexis Tullio, Anthony Pistachio, Jr. and Dahlton Pistachio, all of Pipestone, Minnesota; three great-grandchildren, Kennedi, Addison and Browdy; her father, Carl Amundson of Chandler, Minnesota; and one brother, Louis Amundson of Eagle River, Alaska. She is preceded in death by her husband, Gus Pistachio; her children, Bryan Pistachio and Shelley Pistachio; and her mother, Bernice Amundson.


Previous Events
Memorial Visitation
Hartquist Funeral Home - Pipestone Chapel
710 SE 4th St.
PO Box 351
Pipestone, MN 56164
Memorial Service
Hartquist Funeral Home - Pipestone Chapel
710 SE 4th St.
PO Box 351
Pipestone, MN 56164