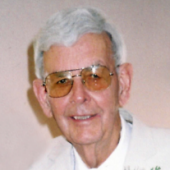 Obituary for Louis "Lou" Brouwer
Peter Louis "Lou" Brouwer was born to Arie and Gertie (Brands) Brouwer on July 21, 1925 near Larchwood, Iowa and baptized in the Reformed Church in Inwood. For the first year and a half of his life, transportation was by horse and buggy. Later the family moved to a farm near Inwood, Iowa and when Louis was 10, to a farm near Chandler, Minnesota. He attended country school, finishing grade school at age 12, having taken two grades in one year. He then helped on the farm. In 1940 the family moved to a farm north of Edgerton, where Louis made profession of his faith in God at the Reformed Church.

When Louis was 19 he met Esther DeWilde at the Christian Reformed Church in Holland, Minnesota; they married on November 27, 1947 at her parents' home in Tyler. They then lived in California for six months where Louis worked for his uncle John Brouwer at a service station in Lodi. In May, 1948, they returned to Tyler where Louis was a carpenter's helper and Esther cared for her parents for the remainder of their lives. Since he enjoyed the outdoors and math was his strong subject in his limited schooling, Louis chose the construction trade to earn a living for the family they hoped to have.

In the spring of 1950, Louis and Esther formed their own construction business. While Louis bid jobs and built a crew with which he worked side-by-side, Esther was bookkeeper and interior design consultant. She was a great partner and took the brunt of raising the four fine children born to this union, passing on to them her musical talent and love for music. Louis spent much of his time operating the family business. In the early 1970s, Louis and Esther purchased several small tracts of land in southwest Tyler and put them together to form Brouwer's Bicentennial Addition which has many fine homes in it today.

Louis enjoyed being with his family. They took many trips in the family car over Christmas holidays when he stopped construction for two weeks so the crew could enjoy time with family. Tyler was Lou and Esther's home for their married life, except for six months in California just after their marriage, and six months in 1961 when the family lived in Phoenix, Arizona.

Louis readily engaged with the community, serving as the first president of Lincoln County's Housing and Redevelopment Authority for three years. He was chair of the Tyler Hospital board and on the board of the Christian Reformed Church and later First English Lutheran, both in Tyler. He was elected to the Christian Reformed General Synod in Grand Rapids, Michigan and voted for buying Calvin College.

After their retirement in January, 1990, Louis and Esther did a great deal of traveling together which they both enjoyed, and spent several winters in Arizona. Louis enjoyed baking and giving away his baked goods. His philosophy was, "It's more blessed to give than to receive." He was known for his love of the Lord and family, as well as for the hundreds of affordable and sought-after quality homes he built.

Louis faithfully cared for Esther the last five years of her life, keeping her home until the last few days. He felt that God gave him the willpower to do this. Plus, she was a sweetheart to care for which helped them get through this difficult time. Esther passed on June 15, 2004. After her death Louis continued to live in Tyler for three years. During this time he and Alvina Vander Sluis became good friends. They married on December 14, 2007 at Alvina's home near Holland, where the couple then resided. They lived 10 happy years together. In 2007 he transferred his church membership from First English Lutheran in Tyler to the Holland Christian Reformed Church.

Lou Brouwer is lovingly remembered by his wife Alvina; four children, Lorna (Arlin) Bylsma of Orange City, Iowa; Rev. Dr. Lynnette Brouwer of Payson, Arizona; Dennis (Rebecca) Brouwer of Purcellville, Virginia; and Estelle (Gary DeCramer) Brouwer of Mendota Heights, Minnesota; 13 grandchildren; ten great-grandchildren; one great-great-grandchild; two brothers, Jasper Brouwer of Demotte, Indiana and Bert Brouwer and his wife Bernice of Edgerton, Minnesota; and two sisters-in-law, Harriet Brouwer of Dexter, Michigan and Katherine Brouwer of Eastpointe, Michigan. He was preceded in death by his wife Esther; his parents; parents-in-law Herman and Etta DeWilde; brother- and sister-in-law Floyd and Edna DeWilde; four brothers, Gerrit, Edward, Arie, and Merle; sister and brother-in-law, Jeanette and Harris Dethmers; two sisters-in-law Berniece and Betty; and one son-in-law Gary DeCramer.

Blessed be his memory and his life through us, his contributions through his life on this earth, and his spirit and soul.


Previous Events
Visitation
Hartquist Funeral Home - Tyler Chapel
100 US Hwy 14
PO Box 207
Tyler, MN 56178
Funeral Service
Christian Reformed Church - Holland
500 Sioux St.
Holland, MN 56139
Cemetery Details
Location
Danebod Cemetery - Tyler
RR 2
Tyler, MN 56178