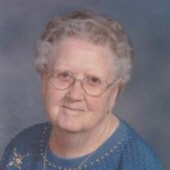 Obituary for Marie Alvina Schmidt
MARIE ALVINA (WUSSOW) SCHMIDT was born to Karl and Anna (Bodesohn) Wussow on May 1, 1921, on a farm south of Pipestone. She was baptized at the Old St. Paul Lutheran Church on May 22, 1921, by Pastor W. Bohnhoff, and was confirmed at the new St. Paul Lutheran Church on March 24, 1934, by Pastor J. Steinmeyer. In 1926, Marie's parents moved to a farm northwest of Cazenovia in Troy Township.She attended school at District 68 and completed eight years of schooling. In 1940, the family moved to a farm northeast of Holland in Aetna Township. Marie helped out on that farm.While living there, Marie was a member of St. James Lutheran Church of Holland. Marie was united in marriage to William L. Schmidt on February, 20, 1944 at her parents' home by Pastor W. Haak. Marie and Bill lived on the Schmidt family farm until 1964 when they moved to Pipestone due to Bill's illness. He passed away January 24,1967. After the death of her husband, Marie worked at the REA and ASC offices as custodian for several years, and also performed housekeeping for Dr. Pandiscio. Marie served as custodian for St. Paul Lutheran, keeping the facility spotless for 17 years until she retired.She moved into Storybrook Apartments in December of 1998. She continued to embroider, sew, and quilt with her sisters and friends, and remained active until her health required a move to Good Samaritan in October of 2012 where she made the transition from this life to her heavenly home on Tuesday, July 21, 2015, at the age of 94 years, two months and 20 days.

Marie was an active and faithful member of St. Paul Lutheran Church and LWML.She helped make quilts for missions for many years and was always looking for ways to help out and encourage others. She enjoyed raising many beautiful flowers andkepta productivegarden.Through the various trials and obstacles that came along in her life, Marie consistently displayed a gracious and grateful spirit. And though she and Bill were never blessed with children of their own, there was always room in her heart and life for a myriad of nieces and nephews. She had a strength of character and perseverance that was an inspiration to all. Family and friendsalike feel incredibly blessed to have had Marie as an essential ingredient in their lives.

Marie is survived byher sister, ClaraDeZeeuw, of Lake Benton, Minnesota,dozens of nieces and nephews, and other family members and friends. She was preceded in death by her husband,Bill;her parents; five brothers, Albert, Carl,Bill, Walter, and John;and nine sisters, Margaret Wittrock, Frieda Erks, Helen Haack, Emma Winsel, Ida Baden, Alma Buffington, Elsie Erks, Anna Kruger, and Gertrude DeZeeuw.


Previous Events
Visitation
Hartquist Funeral Home - Pipestone Chapel
710 SE 4th St.
PO Box 351
Pipestone, MN 56164
Prayer Service
Hartquist Funeral Home - Pipestone Chapel
710 SE 4th St.
PO Box 351
Pipestone, MN 56164
Service
St. Paul Lutheran Church - Pipestone
621 W Main St
Pipestone, MN 56164