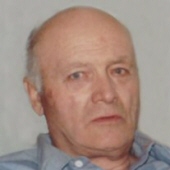 Obituary for Myrl Bruemmer
MYRL FRANK BRUEMMER was born to Carl and Blanche (Thompson) Bruemmer on November 9, 1924 on a farm in Fountain Prairie Township of Pipestone County, Minnesota. He was raised on several different farms in the Pipestone area, and he attended the country school near each farm. On June 21, 1946, he was united in marriage to Esther Smith at Good Shepherd Lutheran Church in Lake Wilson, Minnesota. Following their marriage, they lived on various farms near Pipestone. In 1952, they moved to a farm north of Elkton, South Dakota. During their years in farming, they lived on farms all around Elkton. In 2005, they retired from farming and moved into Elkton. On June 27, 2013, Myrl became a resident of the United Living Community in Brookings, South Dakota where he died on Saturday, November 2, 2013 at the age of 88 years, 11 months and 23 days.

Mryl was an avid reader. In his younger days, he loved to rollerskate. He liked to collect toy tractors and he enjoyed playing bingo. He loved riding his motorcycle and his snowmobile; and he especially enjoyed spending time with his family.

He is lovingly remembered by his wife, Esther Bruemmer of Elkton, South Dakota; two children, Rita Bruemmer of Elkton, South Dakota, and Alan Bruemmer and his wife Linda of Colman, South Dakota; two granddaughters, Alana (Mark) Anderson and Wendy Bruemmer; four great-grandsons, Zachary, Logan, and Carter Schrad and Aden Nelson; and one sister, Byrdella Severeid of Pipestone, Minnesota. He was preceded in death by his parents; and one brother, Dallas Bruemmer.


Previous Events
Memorial Service
Hartquist Funeral Home - Pipestone Chapel
710 SE 4th St.
PO Box 351
Pipestone, MN 56164