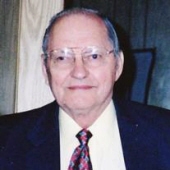 Obituary for Myron L. Hehr
MYRON LEROY HEHR Myron Leroy Hehr… was born in Kulm, ND on April 24, 1927, the middle child of Edward and Anna Hehr. He and his two brothers worked on the family farm. His first jobs were working for other farmers. In the 1940s he took a job with an ice plant in Detroit Lakes, MN cutting ice for the railway cars and from there transferred to Spokane, WA to the plant. He was drafted in the Korean War where he earned a purple heart. He was honorably discharged in 1950, but his time served left unforgettable memories and questions about life.

After his service career Myron went back to Spokane, WA and continued to work for the ice plant and another job with a meat processing plant. He quit those jobs and started working at the landfill, eventually becoming co-owner of a refuse company. Myron married Jean Grasswick and had two children, Royle in 1961 and Margret in 1963. The couple later divorced and Myron took the responsibility of raising his children. In the early 1970s, Myron bought a farm in Baudette, MN. He later sold the farm and returned to Spokane. In the early 1980s he bought a farm in Moose Lake, MN. It was at that farm where his life took a change for the better.

Myron started to study the bible. He wanted to find answers from the Bible about God, life, and death as this time he had the time to listen and learn. As he began to study, he attended the Moose Lake Kingdom Hall of Jehovah's Witnesses. He learned God has a name (Ps. 83:18). He learned that war is not the answer and God's Kingdom is the only solution (Isa.2:4, Dan. 2:44). He learned to put faith in Jesus ransom sacrifice (Mt 20:28). God is not to blame for our suffering (Job 34:10, James 1:13). He learned he didn't have to be afraid of death (Rev 21:3,4, Acts 24:15). He also learned the purpose of the earth (Ps.37:29). Myron was happy to get his questions answered from the Bible.

In the mid-1980s Myron sold his farm and moved back to his hometown of Kulm, ND. He cared for his aging parents until their deaths. He loved spending time at the Lazy S ranch with his family, the Schuldhiszes. Farming was his passion so he enjoyed working on the farm, and visitng for hours. He attended the Jamestown, ND congregation of Jehovah's Witnesses and was baptized on September 21, 1987. He enjoyed attending meetings, giving talks, talking with others, and volunteering his time in the building of Kingdom Halls around ND. In 1995 when he had a major heart attack and stroke.

Soon after that he stayed close by his daughter and her family in MN. He also lived one year with his son and family in AZ. Myron had many friends in several congregations. He was known for his love of laughing and telling jokes. Even in his advanced years he was known for making cookies, using his computer to do bible research, and surfing the internet! The last couple of years he lived in assisted living near his daughter and loved doing jigsaw puzzles. While he no longer was able to go to meetings he would dial in and listen on the phone. His favorite day was Thursday, where he was able to participate in a bible study at his assisted living, where he will be missed

On Thursday, December 18, 2014 Myron died peacefully at the Sanford Luverne Hospital in Luverne, MN, with his daughter at his side, at the age of 87 years. Myron had a firm faith in the resurrection hope.
'Do not be amazed at this,for the hour is coming in which all those in the memorial tombs will hear his voice and come out. 'John 5:28,29.

Myron is survived by his two children, Margret 'Missy' and her husband Eric Kozak of Kanaranzi, Minnesota and Royle and his wife Leslie Hehr of Yuma, Arizona; grandchildren; great-grandchildren; a brother, Durrant and his wife Marilyn Hehr of Tacoma, Washington; and other family.

Myron was a member of the Kingdom Hall of Jehovah's Witness in Luverne, MN. A private family memorial will be held at a later date.