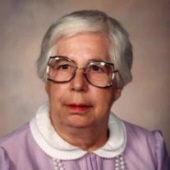 Obituary for Myrtle D. Gott
MYRTLE D. GOTT, was born on February 17, 1925 to August and Ida (Pielhop) Neubert in Adrian, Minnesota where she was raised and received her education. Following her schooling, she began working as a restaurant waitress. Myrtle was united in marriage to Norval Gott. The couple later divorced. Myrtle moved to Luverne, Minnesota in the early 1950's and was a member of Grace Lutheran Church. She continued waitressing until 1963. She then became employed at the Campbell Soup company in Worthington, Minnesota and commuted there until her retirement. Myrtle continued to reside in Luverne. She enjoyed crocheting and being a part of her grandchildren's and great-grandchildren's lives. Later in Myrtle's life she became a resident at the Good Samaritan Society – Mary Jane Brown Home in Luverne, where on Wednesday, March 16, 2011 she passed away peacefully at the age of 86 years and 29 days.

Myrtle is lovingly remembered by her son, Tom Gott of Luverne; two grandchildren, Christopher Gott of Luverne, and Rebecca and her husband Kelly Renken of Luverne; two great-grandchildren, Jayden and Alyia Renken of Luverne; brother, Stanley Neubert of Sioux Falls, South Dakota; and other family. She was preceded in death by her daughter-in-law, Judy; parents, August and Ida Neubert; and four siblings, Vernie Andersen, Wayne Neubert, Kenneth Neubert, and Beatrice Whitfield.