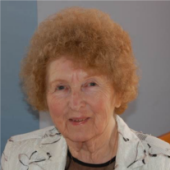 Obituary for Olga Thorson Gabrielson
OLGA EDITH THORSON GABRIELSON was born April 6, 1931 to Adolf and Ragna (Langsnes) Haeaak on the Langsnes farm near Konsmo, Norway. She was baptized and confirmed in the Konsmo Lutheran Church. She received her education through the Agedal school system. She then furthered her education by attending gymnasium (college) in Mandal and studied what at that time was called "Engelsklinja", which was a humanities study of English and German language. Olga then attended and graduated from the business school (Handelsskolen) in Kristiansand. She then went to work at Hoie fabrikker (factory). The Hoie factory (http://hoie.com) offered her a job that if she went to the United States and then returned home to Norway, she would be responsible for the English correspondence. Olga made the trip by boat to the United States in May of 1954. She was met in Sioux Falls, South Dakota by her sister Esther and her husband Toby and their son Omar, who resided in Luverne, Minnesota. Olga came to America to visit Esther who just had her third child. While Olga was at her sister's, she had different jobs such as housekeeping, babysitting and working at the Farmers Union. She later took a job waitressing at the Luverne Pool Hall Caf, where she met Lawrence Thorson. On February 26, 1956 Olga and Lawrence were united in marriage at Zion Lutheran Church in Luverne. The couple made their home on Lawrence's farm southeast of Luverne. The couple was later blessed with three children, Pamela, Kathryn and Jeffrey. Olga and Lawrence farmed together until their retirement in 1990. In 1994, they moved into town. Lawrence preceded Olga in death on February 13, 1997. On January 10, 1998 Olga was united in marriage to Russell Gabrielson at Grace Lutheran Church in Luverne. He preceded her in death on October 19, 2007. In May 2014, Olga became a resident at the Good Samaritan Society – Mary Jane Brown Home in Luverne. In December 2014, she moved to the Crossroads Care Center in Worthington, Minnesota, where on Wednesday, April 20, 2016, she died peacefully surrounded by her family at the age of 85 years and 14 days.

Olga was a member of Grace Lutheran Church. She was an active member of GLCW and served as the Ways and Means chairperson of her Circle. Esther and Olga made 130 Kransekake (Norwegian wedding cake) for many area weddings. Olga was a devoted wife, mother, grandmother and great-grandmother. She enjoyed entertaining family and friends, especially during the holidays. Some of her hobbies included swimming, baking, taking walks and painting. Olga had a warm heart, and will be remembered as a woman of strong character, great compassion, patience and kindness.

She is lovingly remembered by her two children, Pamela (Jack) Hommen of Fargo, North Dakota, and Jeffrey Thorson of Luverne; two grandchildren, Andrew (Nikki) Hommen of Avon, Minnesota, and Alicia (Randy) McCullum of Eagan, Minnesota; five great-grandchildren, Brandon and Molly Hommen, and Jackson, Madison, and Tyson McCullum; two sisters, Esther Olson of Luverne, and Torhild (Baard) Hageland of Hageland, Norway; a sister-in-law, Karen Haeaak of Konsmo, Norway; the family of Russell Gabrielson; and other relatives and friends. She was preceded in death by her husbands, Lawrence Thorson and Russell Gabrielson; daughter, Kathryn Thorson; parents, Adolf and Ragna Haeaak; and two brothers, Reidar (Ingemarie) Haeaak and Ragnvald Haeaak.
.


Previous Events
Visitation
Hartquist Funeral Home - Luverne Chapel
207 Elm St.
Luverne, MN 56156
Funeral Service
Grace Lutheran Church - Luverne
500 N. Kniss Ave.
Luverne, MN 56156
Cemetery Details
Location
Maplewood Cemetery - Luverne
1242 W. Warren St.
Luverne, MN 56156