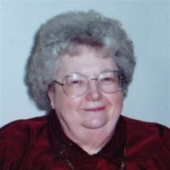 Obituary for Phyllis C. Klosterman
PHYLLIS C. KLOSTERMAN was born to John and Helen (Bartelt) Balzer on April 22, 1927 in Lincoln County, MN. She graduated from Lake Benton High School and attended teacher's training in Canby, MN where she earned her teaching certificate. On June 21, 1950, she was united in marriage to James G. Klosterman at St. Martin's Catholic Church in Woodstock, Minnesota. Following their marriage they lived in Jasper, MN and in 1956 they moved to Pipestone.

Phyllis taught elementary students in the public school system for ten years. In 1966 she opened and operated a private preschool until 1993. Over those 27 years, more than 1000 children started their educational journey under her guidance. In 1971 Phyllis was licensed to sell real estate. She loved working with people and showing them homes and she continued in the business until the age of 79.

On September 21, 1987, she was preceded in death by her husband, Jim. She continued to live in Pipestone and became a resident of Good Samaritan Communities in 2009. Phyllis' greatest pleasure in life was her children and their families. She went to great lengths to acknowledge her grandchildren's birthdays and to make holidays memorable for her family. Her legacy will be the strength and character she displayed during the trials she faced during her life.

On March 6, 2014, Phyllis was admitted to the Pipestone County Medical Center where she passed away under hospice care on Saturday, March 15, 2014.

Phyllis is lovingly remembered by her five children and their families: James (Terri) Klosterman of Waconia, Minnesota and their children, James (Desiree) Klosterman, Kelly (Larry) Siebert and Caitlyn (Andrew) Haney; Jill (Paul) Rysdahl of Marshall, Minnesota and Beret, Brock and Brent Rysdahl; Judi Klosterman and her husband Dave Schwarting of Becker, Minnesota and Taylor, Jay, Joel and Reed Schwarting; Jon (Teresa) Klosterman of Pipestone, Minnesota and Naomi (fiance Matt Guinnink), Kiley (fianc Jordan Houselog) and Kasey Klosterman; Joni (Tyler) Stowater of Brandon, South Dakota and McKenzie and McCord Stowater; 7 great-grandchildren, Madison Klosterman; JR and Elijah Klosterman; Larry, Trey and Jack Siebert; and Chase Haney. She was preceded in death by her husband; her parents; one brother, Melvin Balzer; and one sister, Avis Schorg.

At her request, a private family memorial service will be held at a later date. Condolences may be sent to: Klosterman Family, 414 8th Avenue NW, Pipestone, MN 56164.

Phyllis had a strong belief in the value of higher education. If desired, memorials can be directed to the CSF of the Pipestone Area Dollars for Scholars, PO Box 707, Pipestone, MN 56164.


Cemetery Details
Location
St. Martin Catholic Cemetery
Woodstock, MN, US