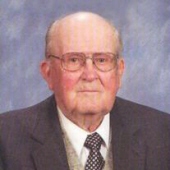 Obituary for Raymond Vogt
Raymond Lawrence Vogt was born to Henry and Mary (Campbell) Vogt in Adrian, Texas on February 2, 1911 (Groundhog's Day). The family moved to a farm east of Magnolia, Minnesota in 1913. Ray and his five sisters all received baptism at the farm place in 1925. He was raised on the farm and attended Westside Township, Nobles County, and District 64 country schools. Following his schooling through the eighth grade he continued working on the family farm. He loved his work on the farm and was fond of his two work horses. Ray also enjoyed having a good time attending dances, which is where he met Ann Becker. On February 2, 1939 the couple was united in marriage at Bethel Reformed Church in Little Rock, Iowa. The couple lived on the Vogt family farm where Ray continued to be a steward to the land along with raising pigs. Their marriage was blessed with six children. The family all worked together on the farm both with housework and farm chores. Ann preceded Ray in death on October 2, 1972. Ray remained on the farm and later was united in marriage to Marj Bonnett. A short time later, the couple moved to Luverne. Ray's son, Alan later began operating the farm. Though he lived in town, Ray remained active on the farm and traveled there nearly every day. In January of 2007, Ray became a resident of the Good Samaritan Society – Mary Jane Brown Home in Luverne where on Sunday, May 6, 2012 he passed away peacefully at the age of 101 years, three months and four days.

Ray was a member of the Magnolia United Methodist Church. Ray belonged to the Magnolia Church Couple's Club for many years, was a member of the Lions, and served on the Westside Township board and the Magnolia Elevator board. Ray enjoyed playing cards, board games and watching all sports. Although there was work to be done, he made sure his children always had time to play ball in the barn. He was an avid Twins fan and later in life enjoyed traveling to watch the team play at Met Stadium. He also enjoyed his 11 cars through the years, most of which were GM vehicles. Ray will be remembered for his love of the land and the love for his family.

He is survived by his six children, Jolene (Lowell) Wessels of Steen, MN, Robert (C. Patricia) of Plymouth, MN, Valoyce (John) Sommers of Yukon, OK, Roger (Sandra) of Luverne, MN, Cheryl (Gaylen) Abels of Sioux Falls, SD, and Alan (Debra) of Magnolia, MN; 15 grandchildren; 28 great-grandchildren; and three siblings, Ruth Ashby, Virginia Schei, and June (William) Nath, all of Luverne; and other family and friends. He was preceded in death by his first wife, Ann; second wife, Marjorie; two granddaughters, Sara Abels and Jennifer Sommers; a great-grandson, Austin Wessels; two sisters, Edna Wieck and Dorothy Smiens; and four brother-in-laws, Lester Wieck, Art Smeins, Howard Ashby and Alfred Schei.


Previous Events
Visitation
Hartquist Funeral Home - Luverne Chapel
207 Elm St.
Luverne, MN 56156
Celebration of Life
United Methodist Church of Luverne
109 N. Freeman Ave.
Luverne, MN 56156
Cemetery Details
Location
Maplewood Cemetery - Luverne
1242 W. Warren St.
Luverne, MN 56156