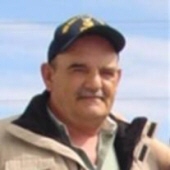 Obituary for Richard E. Neumann
Richard Everett Neumann was born November 13, 1944 to Everett and Marcella(Rodgers)Neumann in Caledonia, MN. In 1954 the family moved to West Concord, Mn where Ric attended school and set and held several records in Track and Field. Following High School he lived and worked on his Grandparents' farm near Freeburg, MN, where he loved to hunt and fish. He later returned to West Concord and worked with his father in the family construction business.
In 1966 Ric married Janice Norton, they were blessed with three children. He worked construction in MN, and in the Western States he worked in the logging business as a lumber jack for several years. He loved sharing stories about working and 'living in the woods'. When he was not in the woods, he could be found managing bowling centers in Idaho, Colorado and Minnesota. He later moved to San Diego, where he enjoyed his work as a maintenance supervisor for an apartment complex.
He moved to Lake Benton, MN in 2005 and worked for Twin City Fan in Elkton, SD until he retired in 2008, when he was diagnosed with cancer. In 2011 when a storm damaged the Lake Benton, Tyler area he was ready again with the chainsaw to cut and clean up damaged trees. What many see as work, Ric did as an enjoyable past-time. Ric was always ready and willing to help others, he enjoyed saving labels and pop caps for the elementary school. Ric loved being outdoors and enjoyed sports, hunting, fishing, reading Westerns and recently took up gardening.
Above all, Ric was proud of, and enjoyed talking about his Children and Grandchildren.
Ric is loving remembered by his children, Richard R. (Elena) Neumann of Marysville, WA, Marti (Jason) Frye of Gillette, WY, Milton (Heidi) of Bend, OR and his eight Grandchildren, Ricky, Johnathan, Janna, Chris, Joey, Tiffany, Hailey and Brice and two Great Grandchildren, Jacob and Kiley. Sisters, Cheryl (Blaine) Maranell of Tyler, MN, Rita (Mark) Serie of Lake Benton, MN, brothers Gary Neumann of Whitehall, MT and Robert (Betty) Neumann of Johnsonville, SC and his dear friend Janice Neumann of Gillette, WY and many other relatives and friends. He was preceded in death by his parents, Everett and Marcella Neumann.
Blessed be his memory, he will be greatly missed.


Previous Events
Memorial Service
Hartquist Funeral Home - Lake Benton Chapel
102 South Freemont St.
PO Box 301
Lake Benton, MN 56149