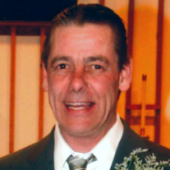 Obituary for Robert L. Drake
A PRIVATE FAMILY CEREMONY TO CELEBRATE BOB'S LIFE WILL BE HELD AT A LATER DATE.

ROBERT LOUIS DRAKE was born on October 25, 1967 to Robert and Gladys (LoCollo) Drake in Plainfield, New Jersey. He received his baptism at Lady of Fatima Church in Piscataway, New Jersey. He attended school through the eleventh grade. Bob spent almost all of his life in New Jersey. The majority of his work life was spent as a diesel mechanic. He met Christi (Spykerboer) Wilson in 2000 and the couple began their life together. On March 8, 2014 Bob and Christi were united in marriage at St. Paul Episcopal Church in Bound Brook, New Jersey. In April 2014 the family moved to Luverne, Minnesota. Bob was diagnosed with stage four lung cancer in December 2015. On Sunday, May 29, 2016 Bob died peacefully surrounded by his loving family at the Sanford USD Medical Center in Sioux Falls, South Dakota at the age of 48 years, seven months and four days.

Bob enjoyed hunting, fishing, motorcycles and racing. Bob loved life and was always up for having a party. Most of all he enjoyed his family.

Bob is lovingly remembered by his wife, Christi; three children, Corporal Ryan (Erica) Drake of Oceanside, California, Robert "Robby" C. Drake and Alexandra "Lexi" Drake, both of Luverne; sister, Maureen (David) Korman of Warren, New Jersey; nephew, Mitchell Korman; mother-in-law, Janice Larson; aunt, Bonnie Busse-Reu of Luverne; and other relatives and friends. He was preceded in death by his parents, Robert and Gladys Drake; and a brother, Joseph Andrews.