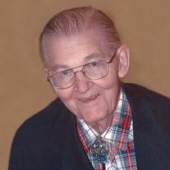 Obituary for Robert "Tim" Tangeman
ROBERT G. 'TIM' TANGEMAN was born on April 14, 1924 to Arthur and Dorothy (Whyte) Tangeman in Hardwick, Minnesota. He graduated from Luverne High School in Luverne, Minnesota and then attended Hamlin University in St. Paul, Minnesota. Tim served his country during World War II in the United States Army Air Corp where he flew P47's and P51's. During his military service, Tim was united in marriage to Dorothy Dean on September of 1944 in Colorado Springs, Colorado. Following Tim's service to his country, the couple lived in the Twin Cities area where Tim graduated from Hamlin Law School. He then went to work at Minnesota Mutual Insurance in Minneapolis. During this time the family lived in Stillwater, Minnesota. In 1965, the family moved to Des Moines, Iowa and Tim went to work at Travelers Insurance. Tim was later appointed as Assistant Attorney General for the state of Iowa, Highway Department where he worked before serving as a judge for the Iowa Correctional Department. Dorothy preceded Tim in death on October 31, 1969. Tim continued to live and worked in Des Moines. On February 20, 1981, Tim was united in marriage to Jeanette (Dempewolf) Battrell in Des Moines. The couple moved to Mesa, Arizona before moving to Luverne in 1985. While living in Luverne they became involved in the community and church. On Monday, April 25, 2011, Tim passed away peacefully at the Sanford Luverne Hospice Cottage at the age of 87 years and 11 days.

Tim was an active member of the Holy Trinity Episcopal Church in Luverne, where he had served as an Elder and Ecumenical Minister. He was a member of the Masons, Southwest Crisis, Center, American Bar Association, Dell Hogan American Legion Post 123 and the Rock County VFW Post 2757. Tim had a genuine care and concern for others. He was a charter member of the Luverne Hospice program and very influential in its inception.

Tim is lovingly remembered by his wife, Jeanette; 12 children, Tim (friend, Nan) Tangeman of Wischon, California, Marc Tangeman of Seattle, Washington, Fran Davis of Scranton, Pennsylvania, Brad Tangeman of Minneapolis, Minnesota, Dan (Leslie) Tangeman of San Clemente, California, Peggy (Mike) Quillman of Freemont, California, Eileen (Ron) Salamon of Stratford, Connecticut, Rita Partridge of Henderson, Nevada, Diane (Lee) Borden of Golden, Colorado, Tom (Helen) Dempewolf of Tucson, Arizona, Nancy (Phil) Mella of Woodlawn Park, Colorado, and Cathy (Tim) Zigler of Longmont, Colorado; 19 grandchildren; 9 great-grandchildren; two brothers, Arthur John "Tim" (Lorraine) Tangeman of Landisburg, Pennsylvania, and Andrew (Pat) Tangeman of Palm Harbor, Florida; nephew, Dean Tangeman, of Charlotte, Michigan; niece, Pat (Bill) Dombroski of Dewitt, Michigan; and other family and friends. He was preceded in death by his first wife, Dorothy; a son, Joseph Dempewolf in 2003; and his parents.


Previous Events
Memorial Service
Holy Trinity Episcopal Church
220 North Cedar Street
Luverne, MN 56156
Cemetery Details
Location
Maplewood Cemetery - Luverne
1242 W. Warren St.
Luverne, MN 56156