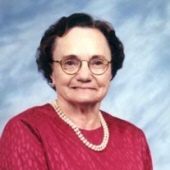 Obituary for Verla Marlene Baker
Verla Marlene Baker was a woman who loved God, led a simple and meaningful life, and leaves behind a beautiful legacy.

Verla was the daughter of Dick E. and Laura (Winkowitsch) Aukes, the 9th of 10 children, born November 16, 1926 on the family farm near Steen, MN. Her siblings were Dick, John, Harvey, Lloyd, Mary (Vis), Laura (Paulson), Lillian (Ausen), Orrin, and Vera (Rozeboom). Vera is her only surviving sibling, married to Conrad Rozeboom.

Verla grew up as a hard-working girl who left School District 14 after 8th grade to help on the farm. She was a life-long learner who had a keen interest in reading and learning new things. She learned how to play the piano, which became a part of her daily routine and a great solace to her later in life.

Verla was the wife of Edward Baker. They were married on March 14, 1945, at the Evangelical United Brethern Church in Steen, MN. They began married life on a farm 3 miles east of Steen and worked side by side through the years, farming and raising animals. Verla was an early-riser, up at dawn to begin the day's work. They lived on that farm for 34 years and in 1979 retired to an acreage by Ash Creek, 2 miles north of the home place, jokingly referred to as "Bakersfield." They enjoyed traveling together and were married 48 years when Ed passed from this life on December 7, 1993.

Verla was "Mom" to five children: Warren, Gerhart, Debra, Bernita & Vern. She taught her children by her actions how to cope with life, through good times and bad. She had a strong faith in God, making devotion and Bible Story time a priority and by praying with and for them. Honesty and integrity were held in high regard, along with a strong work ethic. Their home was not perfect, but the children knew they were loved and valued. There were expectations, but there was also lots of fun.

Verla was "Grandma Baker" to 17 grandchildren and "Great-Grandma Baker" to 48 great-grandchildren! She often referred to herself as "the old woman in the shoe...who had so many children she didn't know what to do.." For years, she kept track of all the birthdays and sent out cards. Her grandchildren and great-grandchildren were treasured and prayed over daily. She loved to hear what was going on in their lives and their antics, and would give advice freely. She really enjoyed the families getting together for food and fellowship. The grandkids always knew there was candy for them in the cupboard, and even when she moved to the nursing home, there was candy in the drawer for them.

Verla was active in the Reformed Church of Steen where the family attended. She taught primary Sunday School for many years and was a member of the RCW Ladies circle. She had many other hobbies and interests. She was a historian and a writer. She had a knack for remembering detailed factual accounts, and kept journals through the years. If anyone wanted to know what happened a year or more ago, we could ask her. She had beautiful handwriting and always kept up with relatives and friends writing letters. She was a good photographer and took many pictures, which are now treasured. She was an excellent cook, always had a bountiful, huge garden and loved flowers. Later in life she earned her CNA certificate, was active in Senior Citizens, learned how to crochet, did ceramics, quilted, sewed many baby blankets. She was known for her generous spirit, sense of humor, and love for the farm.

Verla was a whisper of her former self these last years. She became dependent on others for many things, but her spirit remained strong. Her relationship with God was still felt and observed. When we talked about her funeral, she said "Make sure the message of salvation is told."

Verla is now where she longed to be, safe in the arms of her Lord and Savior who she so loved. Verla died Sunday, August 3, 2014 at the Sanford Luverne Hospice Cottage at the age of 87 years, 8 months, and 17 days. Blessed be her memory.

Verla is lovingly remembered by her children, Warren (and Loretta) Baker of Luverne, Minnesota, Gerhart (and Marsha) Baker of Owasso, Oklahoma, Debra (and Darrell) Petersen of Pennock, Minnesota, Bernita (and Richard) Hup of Fulda, Minnesota, and Vern Baker of Luverne, Minnesota; Grandchildren, Beth (& Keith) Herman, Randy (& Janie) Baker, Dean (& Tracy) Baker, Londa (& Rick) Krueger, Scott (& Joey) Baker, Jason (& Cindy) Baker, LaRae (& Darrin) Duff, Sonya (& Lon) Bjornrud, Craig (& Holly) Petersen, Vonny (& Justin) Kleinman, Candace (& Adam) Boerema, Rebecca (& Troy) Bruning, Daniel (& Mikkala) Hup, Alyson (& Dana) Olson, Karen (& Alex) Giffith, Wayne Baker, Robert (& Kerri) Baker; her 48 Great Grandchildren; sister, Vera (and Con) Rozeboom of Murdock, Minnesota; sisters-in-law, Jennie Bonnema of Inwood, Iowa, Bertha Dezeeuw of Sheldon, Iowa, Bernice (and Otto) Bouma of Luverne, Minnesota, Jane Baker Bosch of Steen, Minnesota, and Bernice Aukes of Hills, Minnesota; many other family and friends. She was preceded in death by her husband, Edward; parents, Dick and Laura Aukes; five brothers, Dick, John, Harvey, Lloyd, and Orrin Aukes; three sisters, Mary Vis, Laura Paulsen, and Lillian Ausen.


Previous Events
Visitation
Hartquist Funeral Home - Luverne Chapel
207 Elm St.
Luverne, MN 56156
Service
Reformed Church of Steen
123 W. Church Ave.
Steen, MN 56173
Cemetery Details
Location
Eastside Cemetery
Steen, MN, US, 56173