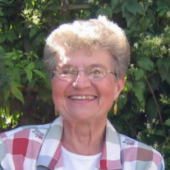 Obituary for Voneta Freese
Voneta Mae Freese…

was born to Arthur and Rozella (Johnston) DeVries on October 8, 1938 at Huron, South Dakota where she grew up and received her education. After her high school graduation, she attended Huron University where she received her BA Degree in elementary education. She then continued to teach in the Huron School District for the next five years. During this time, she was very active in school activities, the YMCA, church activities and singing in the choir. Voneta met John Freese at a dance in Lane, South Dakota, and they were married on July 8, 1962 at the Methodist Church in Huron. In 1966, she moved to Pipestone, Minnesota with her husband John. While in Pipestone, she was a substitute teacher for three years and then opened a daycare in her home. She continued in this business for the next 27 years. In 1994, she was diagnosed as having dementia. She remained at home with her husband until 2008 when she was admitted to Ashton Care Center in Pipestone. Upon the closing of Ashton, she moved into the Good Samaritan Communities of Pipestone. She was recently admitted to the Pipestone County Hospice where she died on Wednesday, July 5, 2017 at the age of 78 years, eight months and 27 days.

Voneta was a member of Peace United Methodist Church in Pipestone where she served on several committees, taught Sunday school and sang in the choir. She also belonged to the teachers' wives organization, her bridge club, a bowling league, and a 500 card group; and, of course, she enjoyed going dancing with her husband.

She is lovingly remembered by her husband of 54 years, John Freese of Pipestone, Minnesota; three sons, Brett Freese and his wife Kelley of Sauk Centre, Minnesota, Mike Freese, his special friend, Julie Lopau and his son Dominic of Pipestone, Minnesota, and Ryan Freese and his wife Erica and children Aiden and Brigit of Maple Grove, Minnesota; her sister, Mavis Grace of Huron, South Dakota; and several nieces and nephews. She was preceded in death by her parents; her brother, Richard DeVries; her sister-in-law, Marsha DeVries; and her brother-in-law, Ernan Grace.

In lieu of flowers, memorials may be directed to St. Paul Lutheran Church choir or Pipestone Performing Arts Center.


Previous Events
Visitation
Hartquist Funeral Home - Pipestone Chapel
710 SE 4th St.
PO Box 351
Pipestone, MN 56164
Funeral Service
St. Paul Lutheran Church - Pipestone
621 W Main St
Pipestone, MN 56164
Cemetery Details
Location
Restlawn Memorial Cemetery - Huron, SD
Huron, SD
Huron, SD 57350