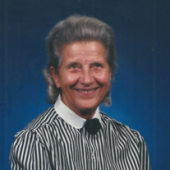 Obituary for Walentyna Andersen
Walentyna Andersen 'The Honey Lady' was born April 25, 1927 to Pawel and Stefania (Donder) Jaskulski in Grudziadz, Poland. She grew up there and during her childhood was a survivor of the German occupation of Poland. She attended Copernicus University in Torun, Poland where she studied economy and law. In 1963, while on her way to the mountains to go downhill skiing, she met Iver Andersen. Upon his return to the United States, they began corresponding by letters. Sometime later, she accepted an invitation from Iver by letter to visit America. During her visit, Iver asked Walentyna to marry him and she accepted. The only problem was Iver was a beekeeper and she was very much afraid of bees. Walentyna's fear of bees turned into fascination as she resolved to learn to work with Iver and the 300-400 hives of bees. Iver died in 1980, leaving Walentyna to keep the bees and the Honey Corner business in operation. In 1989, she met and married John Feuerstein, who shared an interest in the operation because his father had kept bees and they worked with about 70 hives. Walentyna had entered her honey at the Minnesota State Fair for years and had won prizes dating back to 1968. She retired in 2013. Following a knee surgery that same year she entered recovery at Danebod Village in Tyler and Minnesota Senior Care in Lake Benton. Recently she had a decline in health and entered the care of Sanford Hospice Cottage in Luverne, Minnesota where she died on Monday, January 16, 2017 at the age of 89 years.

Walentyna was a member of St. Genevieve Catholic Church in Lake Benton. She was a member of the Beekeeper's Association, Horticulture Society and Lake Benton Legion Auxiliary. Walentyna enjoyed downhill skiing and teaching children to ski, travelling, winters in Poland, flowers, swimming, and she was very proud of her Polish heritage. Walentyna was very interested in the knowledge and practice of natural health and folk medicines. She especially enjoyed the work with her bees and sharing that passion with others.

Walentyna is lovingly remembered by her nieces, Bozena (and Benedykt) Suchomscy, Elzbieta (and Pawel) Jaskulski, Iwona Grezlikowska, Maria (and Jerzy) Hulewicz, Elzbieta (and Wieslaw) Polinski, and Maria (and Mieczyslaw) Krol all of Poland; many great nieces and great nephews; other family; and friends. She was preceded in death by her parents; Pawel and Stefania; first husband, Iver Andersen; second husband, John Feurersten; three sisters, Justyna, Iwona, Jadwiga; and a brother Piotr. Blessed and eternal be her memory.


Previous Events
Memorial Visitation
St. Genevieve Catholic Church - Lake Benton
119 Sherman St.
Lake Benton, MN 56149
Memorial Mass of Christian Burial
St. Genevieve Catholic Church - Lake Benton
119 Sherman St.
Lake Benton, MN 56149
Cemetery Details
Location
Diamond Lake Cemetery
County Rd 13 and Hwy 75 Lake Benton, MN, 56149