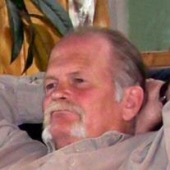 Obituary for William H. Bullis
WILLIAM 'BILL' BULLIS was born to Ernest and Margaret (Skyberg) Bullis on February 8, 1952 in Luverne, Minnesota. William grew up and went to school in Luverne. He joined the Army in 1969 and served in Vietnam. After his discharge from the Army he attended Suburban Hennepin Vo-Tech in Eden Prairie, Minnesota. Upon graduation from Suburban Hennepin he started Bill Bullis Drywall. In 1973, William married Terry R. Gass at the Little Brown Church in the Vale in Nashua, Iowa. The couple made their home in Luverne and started B and B Concessions in 1978. After 27 years in the Carnival and Food Concession business they retired and moved to Alpine, Wyoming in 2005. After a courageous battle with cancer, William passed away on Saturday, December 20, 2014, at the age of 62 years, 10 months, and 12 days.

William is survived by his wife of 41 years, Terry; his children, Jennifer Connell of Luverne and Troy Bullis of Lakota, North Dakota; five grandchildren, Courtney, Taylor, and Tate Bullis and Billi Jo and Conner Connell; his sisters, Deloras (John) Korgel of Sioux Falls, SD, Barbara (Robert) Nelson of St. Louis Park, MN and Connie (Steve) Burkhart of Wenatchee, WA; several nephews and nieces; and many friends. He was preceded in death by his parents, Ernest and Margaret; his brothers, Arthur and Eugene: his nephew, John Henry Korgel; his father and mother-in-law, Kelly and Ardyth Gass; and a brother-in-law, Robert Nelson.

A private memorial service is being held at a later date in Lakota, North Dakota.