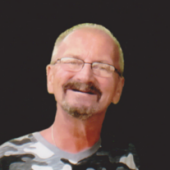 Obituary for William "Willie" Kowalczyk
William "Willie" Kowalczyk

was born on January 7, 1957 to Edward and Frances (Sufka) Kowalczyk in Little Falls, Minnesota where he was raised and attended school. After completing his education, he worked as a farm laborer in rural Todd County. While working in Todd County, he met Kathy (Beck) Drews and they were married on June 4, 1993 in Little Falls. Following their marriage, they lived in Pipestone and Bill became employed by Pipestone Concrete. When that company closed, he began working for Twin City Fan in Elkton, South Dakota. With the opening of Suzlon in Pipestone, Bill worked there until their closure. He was currently employed by Wilson Manufacturing in Pipestone. In March, 2017, he was diagnosed with cancer. He continued to work until recently when he went under hospice care. This past week he was admitted to the Pipestone County Medical Center where he died on Friday, September 8, 2017 at the age of 60 years, eight months and one day.

Bill enjoyed putting in a large garden every summer and riding around Pipestone on his pink scooter. He loved to cook and often did the cooking for their daily meals. In his younger years, he had various jobs and enjoyed horseback riding, basketball, gardening and being at the lake. He loved spending time with his grandchildren who also loved spending time with him.

He is survived by his wife, Kathy Kowalczyk; his children, Casey and Toni; his stepchildren, Angie, Vanessa, and Tony; and his grandchildren; 14 siblings, Richie Kowalczyk, Ervin Kowalczyk, LeRoy Kowalczyk, Mary Ann Aigner, Georgie (Diane) Kowalczyk, Arnold Kowalczyk, Jerome (Susan) Kowalczyk, Tommy (Mary) Kowalczyk, LouAnn (Ed) Kanesk, Joann (fianc Kevin) Sitzman, Diann (Larry) Knafla, Betty (Gordie) Gall, Johnny (Lori) Kowalczyk, Marlys (Rory) Lindner ; and many nieces and nephews. He is preceded in death by his parents, Edward and Frances (Sufka) Kowalczyk; his sister, Susan Kowalczyk; two brothers-in-law, Roger Aigner and Marvin Sitzman; and his sister-in-law, Marlene Kowalczyk.

A private family service will be held Monday, September 11, 2017.


Cemetery Details
Location
New Woodlawn Cemetery - Pipestone
654 116th St.
Pipestone, MN 56164